O'Flaherty Our New Lefty Man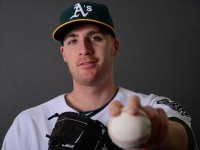 Finally, the Mets are addressing their second biggest roster hole: the lack of a LOOGY. The Mets have added Eric O'Flaherty for a player to be named later. I'm assuming the prospect will be of no consequence (although I'm leery with the Mets receiving cash), and accordingly, I love the trade.
Jerry Blevins had been brilliant to start the year. However, he broke his arm, and it took longer to heal than anticipated. He's finally been cleared to throw, but there is no timetable for his return. If he does come back, it'll give the Mets two LOOGYs. That'll be a nice weapon when you still have six games remaining against Bryce Harper and the Nationals.
For his part, O'Flaherty should only be used against lefties. He's holding lefties to a triple slash line of .186/.286/.209. He has not given up a homerun to a LHB. Conversely, he's gotten mauled by righties to the tune of .420/.491/.620.
This is also addition by subtraction because the Mets designated Alex Torres for assignment. At first glance, Torres' 3.15 ERA suggests he's pitched well. However, his peripherals are scary. He has an FIP of 5.68 and a 1.515 WHIP. Furthermore, he's a lefty who can't get out lefties. They're hitting a triple slash line of .268/.406/.393.
Overall, this is a good trade that addresses a real team need. The only downside is that it'll drive me even crazier that I can't get a personalized jersey.