Thank You Tyler Clippard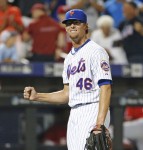 Last season, the Mets trading for Tyler Clippard was the first sign that the Mets were all-in on the 2015 season. The Mets gave up a very promising prospect in Casey Meisner for three months of a middle reliever.
When Clippard came to the Mets, he immediately locked down the eighth inning. When the division was still in doubt, from July 28th to September 16th, he pitched 26.1 innings in 26 appearances with a 2.73 ERA and a 1.03 WHIP. He limited batter to a .182/.257/.364 batting line. He combined with Jeurys Familia to make Mets games seven inning games. Combined with the Mets starting pitching, you have a 20-8 August and the Mets putting away the Nationals and the NL East.
With that, Clippard completed his goal of "chasing down [his] old teammates there in Washington." He wanted bragging rights over his old teammates, and he got them.
Unfortunately, Clippard suffered a back injury. His production fell off significantly. He wasn't the shut down reliever he was when he first joined the Mets. That Clippard was missed in the World Series. He was the loser in Game Four, which was probably the turning point in that series. After that the Mets apparently felt he didn't deserve the two-year deal they gave Antonio Bastardo.
Personally, I thought with the offseason, Clippard would've had time to heal and become that eighth inning option again. I'm still surprised the Mets thought he was worth a potential ace, saw him perform well, and now think he's not worth a two year deal. Well now, the Mets loss is the Diamondbacks gain. Now, Clippard is an ex-Met after him doing everything he could do to help the team win the NL East. He leaves with those bragging rights.
The Mets now have bragging rights over everyone in the National League. With that, we all owe him a small debt of gratitude. When he comes out of that bullpen door come this August, he deserves to be cheered. He deserves that much.
Thank you Tyler Clippard.