Why Roger Bernadina?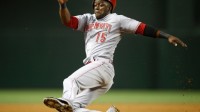 Yesterday, the Mets signed Roger Bernadina to a minor league deal. Anytime the Mets sign a player on a minor league deal, I think it's a great low risk high reward move.With that said, I'm curious why the Mets signed Bernadina.
Bernadina is a 31 year old outfielder that was originally signed by the Montreal Expos. He played three full seasons with the successor Nationals before being released. Bernadina bounced around a bit since, and he spent all of 2015 in the minor leagues. He's a career .236/.307/.354 hitter. He's played all three outfield positions in his career reasonably well. Considering the Brandon Nimmo injury and the Darrell Ceciliani trade, this was a good depth move. Or was it?
His current deal with the Mets he has a June 15th opt out clause. That's the same day the Mets can trade Alejandro De Aza without any restrictions. This begs the question whether Bernadina was signed as minor league depth, or whether he was signed so the Mets could trade De Aza? Is Berndina slated to be the fifth outfielder or is he really just depth to protect against injury?
Time will tell. In either scenario, this was a solid organizational depth move by the Mets.