Cespedes Wasn't the Plan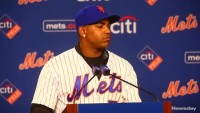 At the press conference today re-introducing Yoenis Cespedes, the issue of what Alejandro De Aza's role will be. Naturally, he's expected to be on the bench ready, willing, and able to play all three outfield positions. Perhaps, that is jumping the gun a bit:
https://twitter.com/jareddiamond/status/694964819003359232
This really just confirms what every Mets fan thought when De Aza came aboard. De Aza signed with the Mets to share centerfield duties with Juan Lagares. The move was made because the Mets never thought they were going to be able to sign Cespedes. Yet, somehow, Cespedes returned to the Mets leaving behind Lagares and De Aza platooning on the bench.
Now, we are not privy to what, if any, promises were made to De Aza. We do know at the time De Aza was signed, the Mets were fairly steadfast they were not re-signing Cespedes. With that said, it's fair to say, De Aza came to the Mets to be at worst their fourth outfielder. At a minimum, it appeared he was going to have a legitimate shot to get the bulk of the at bats in centerfield. Now, he's the team's fifth outfielder. I'm sure he's not happy with being pushed down the depth chart without even playing one game, especially when he could've signed anywhere.
Now, De Aza can't be traded until June 15th unless he consents to a deal, which he very well might. While every player wants to win, every player also wants to play. Right now, De Aza's at bats will be few and far between as he's the left-handed option off the bench, and the corner outfielders hit left-handed as well. He could be buried on the bench for a while. It's not exactly an exciting proposition for a 31 year old utility outfielder.
So yes, we understand why De Aza would want to be traded, but why would the Mets want to trade him? With the Brandon Nimmo injury and the Darrell Ceciliani trade, De Aza is it when it comes to organizational centerfield depth. Well, there are a few good reasons.
First, De Aza may not be happy on the bench for long stretches, especially after he thought he could be a starter with the Mets. Having a disgruntled player is never good for your clubhouse. While Terry Collins was quite adept at handling the clubhouse last year, it doesn't mean you should introduce a potential problem from the start. No, I'm not suggesting De Aza is a bad guy. Rather, I'm saying any player not getting sufficient playing time is an issue that will eventually come to a head.
Another reason you trade De Aza now is this might be the time when he has his most value. As teams look to fill out their rosters as Spring Training and/or the regular season approaches, De Aza may become a more attractive option. The Mets aren't likely to get much in return, but whatever they do get is most likely to be better than what they get around the trade deadline.
Whether or not the Mets trade De Aza, we should be able to agree on one thing. De Aza is here because the Mets never expected Cespedes to be here. Now the Mets need to find playing time for FIVE major league caliber outfielders. This really is a nice problem to have after the problems we saw with the Mets last year.
Sometimes, it's great when the plan doesn't come together.