Wilpon's Finances Isn't the Story Anymore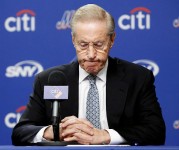 When is a story not a story? I found myself asking that question when I read Deadspin's account on the current state of the Wilpon's real estate business.
For the relatively uninformed Fred Wilpon made his money in the New York City real estate market. He is seen as a shrewd investor and a respected member of the industry. Say what you will about Fred Wilpon and his running of the Mets, but up until this article, his real estate acumen has not come into question.
Normally, I think Deadspin's article would have been very important and enlightening. As we've seen from Howard Megdal's reporting, the Mets other business interests have affected their ability/willingness to put the most competitive Mets team on the field as possible. However, with the Yoenis Cespedes signing, and the payroll hovering around $140 million, I'm not sure the Mets payroll is a story anymore, at least not with respect to the 2016 season.
While we can quibble with any particular move, it's hard to attack the Mets for this roster as a whole. They have arguably the best pitching staff in baseball. Of the eight everyday position players, five are former All Stars while the other three could reasonably be All Stars within the next year or so. The bullpen has many pitchers who can handle both righties and lefties well, and it is headlined by a dominant closer.
So yes, the Deadspin report is very newsworthy. However, at least with respect to the 2016 season it's not really a baseball story. It's not a reason for any snarky comments. The Mets have spent the money, and they have a complete roster to make another run towards winning the World Series.