World Series More about the Fans than the Super Bowl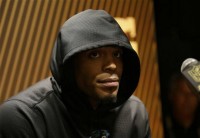 I'm not going to criticize Cam Newton and his performance at the post-Super Bowl press conference:
He was sullen and depressed from losing the biggest game of his life. In the background, you can hear a Bronco player bragging about how they shut down Cam Newton and the Panthers. He was literally asked the same question over and over again. Do you really expect him to be ecstatic and loquacious?
Of course not. The narrative will be either how he didn't play well or how he was shut down. He has a long flight ahead of him. He's 3,000 miles away from the Panther fans. It's just a terrible situation.
Juxtapose that with the Mets losing the World Series. The team lost three games in which they had a lead with their seemingly invincible closer on the mound. Perhaps the cruelest defeat was Game Five when the Mets arguably had their ace carry a shutout into the ninth. They had a lead from two homeruns from their future superstar leftfielder. They blew the game like they blew the rest of the series. They lost in front of their home fans.
Cam Newton had to hear how he got beat. He got asked the same question repeatedly. Here's the treatment the Mets players received:
The setting allowed the fans and team to celebrate a great season together. Yes, it would've been different had the Mets been on the road. Conversely, the passionate fans would then have a chance to celebrate their teams World Series title:
Did you hear or see any of the exuberance yesterday? No. That's the effect of playing a game at a neutral site. There's no rejoicing when your team wins. There's no celebrating a season that fell just short. In short, there's no shared experience.
In the end, baseball is about a journey. It's a shared journey between the team and their fans. Football ignores their fans and leaves their players out to dry. It's why baseball will always be superior.