Logan Verrett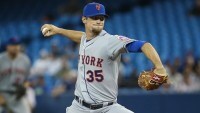 The strength of the Mets team this year has been their rotation. Even when they weren't scoring runs, the rotation was able to keep it together for long enough to permit Sandy Alderson to make some moves to improve the offense.
With the Mets actually having a major league offense, they now seem intent to tempt fate and continue to mess with the rotation. They got away with it with Logan Verrett having a great game against the Rockies. Reading the tea leaves, Verrett may get another start.
Verrett did not make an appearance in last night's game even though they needed him. Instead, we saw Eric O'Flaherty, Carlos Torres, and four outs from Tyler Clippard. Now, it appears Clippard will be unavailable tonight. If Verrett was truly available, he should've pitched in the eighth or ninth last night. This makes you question why he didn't make an appearance. Was it because the Mets are giving him another start?
Another cause for suspicion is the Mets handling of the Steven Matz rehab. Initially, the Mets said they wanted to call him up on September 1st and move to a six man rotation. However, the Mets say Matz will need another rehab start before being called back up. That next start would be August 30th. This means he will first be ready to start Friday, September 4th in Miami. That leaves room for one Verrett start.
In between that time, there's another opportunity for Verrett to start. His next time up would be tonight. If Verrett comes out of the bullpen tonight, we'll know he's out of the rotation. If he doesn't, barring a Jon Niese complete game, we can reasonably assume, he's getting another start.
The Mets may believe Verrett earned another start with his he pitched in Colorado. I think that's faulty logic. While he pitched well, I think you only start him if you believe he's one of your five or six best pitchers. I don't think the Mets believe that. If that's the case, put him in the bullpen so you don't burn out your actual good arms like Clippard and Jeurys Familia before the playoffs.
I think the bullpen is the greater need right now, and I don't think there is a real innings limit problem. Get Verrett in the bullpen now.
NOTE: while this is something I drafted after last night's Mets game, it should be noted this is being published after Ryan Burdette's excellent tweet. Since I saw this tweet, I felt the need to make this notation before publishing this post.