In Retrospect the Cespedes Trade Was Still a Bad Trade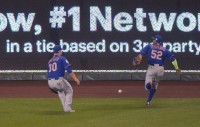 When assessing what's left of this offseason, Sandy Alderson has given fair critiques on what remains. He has stated Yoenis Cespedes was a square peg for a round hole. In essence, Alderson was saying Cespedes' bat doesn't justify his poor defense.
Last year, Cespedes' UZR (Ultimate Zone Rating) in centerfield was -3.2, which is also his career average. UZR tells us he's a below average centerfielder. DRS (Defensive Runs Saved) paints an uglier picture. Cespedes was a -17 in center last year, which is about as bad as it gets. His career average in his prior years in center is -4, which suggests he's below average. Therefore, no matter what stat you want to use, Cespedes is a poor defensive centerfielder in a spacious Citi Field outfield.
Mets fans seem to feel differently because Cespedes hit extraordinarily well when he came to the Mets. When he was hitting like that you could justify his poor defense in a key defensive position. Problem is Cespedes just doesn't hit like that. He's a low OBP with good power (or potencia). He is a career .261/.319/.486 hitter. He is a career .236/.302/.491 hitter at Citi Field. I know I expected that to be a lot higher too. Thing is if Cespedes reverts back to these numbers, you can't justify playing him in centerfield everyday.
Understandably, Mets fans remember him more for his insane hot streak. They overly correlate winning the division with Cespedes' arrival. Some will dismiss the statistics and point to the eye test. With respect to the eye test, all I can say is Cespedes gave up not one, but two, Little League homeruns last year. How many centerfielders do that?
Overall, the Cespedes' situation leaves me irritated. No, I'm not irritated because the Mets aren't going to re-sign him. I'm irritated because of what they gave up to get him.
The Mets gave up Michael Fulmer for three months of Cespedes. At the time of the trade, the industry believed Fulmer was an unbelievable get for the Tigers. Yes, baseball people said the Tigers won the deal; not the Mets. Part of the reason might be the fact the Tigers most likely couldn't re-sign him due to the language in his contract. Cespedes wouldn't and most likely couldn't re-sign with the Tigers, and they got Fulmer in the deal? It just wasn't a good trade. The Tigers were the more desperate team, and the Mets still gave up too much value for a player they knew they weren't going to re-sign.
Fulmer could be a potential ace. Last year in AA, he was the Eastern League Pitcher of the Year. He's a guy who can get his fastball up to 97 MPH with a full repertoire. He can probably help a big league team in 2016. He will be bringing that talent to the Tigers instead of the Mets.
Usually, it's at this point I hear how you have to give up something to get something. That's fine, but that doesn't change the fact the Mets have up too much for a player they had no intentions of re-signing. I'll also hear how it was worth it because the Mets won the NL East and made the postseason. That's a stretch considering the Nationals imploded, and the Mets won the division by seven games.
Furthermore, this trade ignores the John Smoltz trade. In 1987, the Tigers traded Smoltz to the Braves for Doyle Alexander. Alexander was terrific for the Tigers going 9-0 with a 1.53 ERA. He helped the Tigers win the AL East. I'm sure Tigers fans were elated. The problem is the Tigers didn't win the World Series, and oh yeah, they traded away a future Hall of Famer. Do you think the Tigers and their fans would want a do-over on that trade?
Is Fulmer a Hall of Famer? We don't know that yet. We don't know if he'll be an ineffective starter and have to go to the bullpen. The thing is his value as a potential ace was much higher than a rental.
Here's what we do know:
The Mets lost 15 pitchers over the last year;
The Mets had to sign a fifth stater this offseason; and
The Mets didn't win the World Series.
That's it in a nutshell. The Mets tout all this pitching depth, and yet they're signing guys like Bartolo Colon because they didn't have a fifth starter. Furthermore, the Mets don't have a World Series title to show for losing all that pitching. In fact, they don't even have a Cespedes. So while I agree with Sandy Alderson that Cespedes isn't a centerfielder, I can't agree with him giving up a potential ace to a desperate team for someone he saw as a square peg to a round hole.
Just like most Mets fans, I'm irritated over the Cespedes situation. However, I'm irritated because they gave up a lot to bring him to New York. I'm alright with them admitting he wasn't a centerfielder. I just wish they realized that before sacrificing a part of their future. A part of their future that will come all the more important when the Mets may not have the money to re-sign any of Matt Harvey, Jacob deGrom, or Noah Syndergaard.
When that times comes, what will you be thinking? Will you be thinking the three months of Cespedes was worth it, or will you be wondering about how the Mets really could've used Fulmer to cushion the blow? My bets on the latter.
Editor's Note: this first ran on metsmerizedonline.com