Yes, Matt Harvey Should Start Game One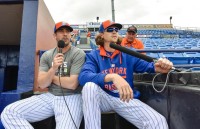 Throughout 2015, Jacob deGrom has been the Mets ace. He deserved to get the ball in the first game of the playoffs. He delivered not once, not twice, but in all three of his postseason starts. So why hand the ball to Matt Harvey now?
First, it was his turn in the rotation. Players are creatures of habit. This goes doubly so for starting pitchers. There's no need to take the pitchers out of their routine right now, especially with a long layover after sweeping the Cubs.
Second, deGrom needs a little more rest. His velocity has dipped by about three MPH. He's had less control going from 71.7% strikes to just 61.5% in the NLCS. In addition, deGrom could benefit from extra rest. During the regular season, he posted a 2.63 ERA with more than five days of rest. That's worse than his four day rest (1.47 ERA) numbers, but it is better than his five days rest numbers (3.27 ERA).
Third, Harvey may have more availability:
TC to Matt Harvey on Game 1:

"You ready for it?"

Harvey: "Damn right"

And on working Game 7 in relief:

"I'll be ready."

— Adam Rubin (@AdamRubinMedia) October 24, 2015
We saw the advantage it was having Noah Syndergaard available in Game 5 of the NLDS. You want your best pitchers as much as possible. That should include Harvey pitching in Game 7. Note, I believe deGrom would go to the whip as well if the roles were reversed.
Fourth, Harvey is pitching a little better right now. In his last start, Harvey pitched 7.2 innings allowing 4 hits, 2 earned, 2 walks, and 9 strikeouts. He was perfect through four. I'm not sure the Cubs even get a run in the game if not for a Juan Lagares misplay.
In his last start deGrom pitched well. He pitched 7.0 innings allowing 4 hits, 2 earned, 1 walk, and 7 strikeouts. It's picking nits, but deGrom wasn't as good as Harvey. However, when you have three great starting pitchers, picking nits is all you have.
Fifth, through all of it Harvey might just be the better pitcher. It doesn't change the fact that deGrom had a better year, but Harvey has better stuff. No, I don't have something to link here. It's just my belief. Harvey has pitched extremely well coming off of Tommy John surgery; the year in which pitchers struggle the most. Harvey has his same repertoire of pitches and added a curveball. He has more ways to get you out.
Overall, I'd go with Harvey. You can make an excellent case for deGrom as well. You can make a compelling case for Thor as well. In the end, that's the best news. We're arguing over three pitchers who would all arguably take the ball in Game One for the Royals.
Sometimes, minor discussions like this gives you the biggest hope the Mets will win this World Series.