The Murphy Game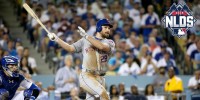 Baseball is special. While it's been characterized as an individual sport with players seeking their own stats, it truly is a team game. You can't have one player carry a game, even a hot pitcher. The offense needs to score for him.
However, sometimes you get a player in a game that throws that premise out the window. I've seen it once before with David Freese. I was it again with Daniel Murphy last night. It was the type of game that will launch the #Murphtober meme. That's great and all, but what we saw last night can only be described as "The Daniel Murphy Game."
The Mets are facing the probable NL Cy Young in Zack Greinke. Murphy gets a big hit knocking in Curtis Granderson to get the Mets a 1-0 lead. If you were on Twitter, you saw many Mets fans thought the game was over. Jacob deGrom seemingly didn't have it, and Greinke was dominating. It really did appear that it was going to end 2-1.
Murphy then gets a base hit off of Greinke, who had retired eight in a row. Yoenis Cespedes flies out, and then the momentum of the game would change. Lucas Duda, who's been lost at the plate, battled in his at bat earn a walk. Because Duda was at the plate, the Dodgers had the shift on with no one on the left side of the infield. Murphy lulled the Dodgers to sleep by trotting to second before taking off and stealing third. This set up Travis d'Arnaud's sac fly, scoring Murphy, to tie the game.
At this point, it was apparent nothing was going to happen unless Murphy did it, and he did:
Daniel Murphy becomes the only NL player to homer off Clayton Kershaw AND Zack Greinke this year. #OwnOctober pic.twitter.com/xH2KNMAHSc

— MLB Stats (@MLBStats) October 16, 2015
Murphy was directly responsible for all three runs. However, the man refused to take full credit for the win:
Daniel Murphy after his big Game 5 plays: http://t.co/mHFbUfIjda

— Buster Olney (@Buster_ESPN) October 16, 2015
Overall, how does this happen? False presumptions aside, you wouldn't expect Murphy to carry the Mets offensively. He's never done it before. He's not a power hitter. He doesn't have a high OBP. However, he's hot, and he has a belief in himself. That leads to incredible things:
Daniel Murphy was 7-for-21 with 3 homers, 5 runs, 5 RBIs and an .810 slugging percentage in the #NLDS. pic.twitter.com/3EXA2F41UN

— MLB Stats (@MLBStats) October 16, 2015
Game Five of the NLDS will always be known as The Daniel Murphy Game. And yes, as the postseason goes on, it may become known as Murphtober.