Win Was Rest Assured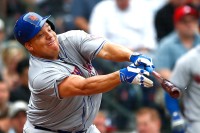 Like his past few starts, this game was all about Bartolo Colon clobbering the NL East. He's now 13-1 against the NL East with a 2.52. He had a 31 inning scoreless streak that surpassed Warren Spahn's record for most consecutive shut out innings for a 42 year old. It was also fell 1.2 innings short of R. A. Dickey's club record.
Colon even asserted his dominance at the plate. After Kelly Johnson and Juan Uribe scored on a Kevin Plawecki 4th inning RBI double, Colon would single him home. Colin's dominance and scoreless streak would end in the seventh when he allowed two runs. With two outs, he was lifted for Dario Alvarez, who did his job as a LOOGY, and got the lefty Nick Markakis out.
Hansel Robles was out attending to family matters. Tyler Clippard and Jeurys Familia were given the day off due to their usage in the Washington series. As such, Alvarez came back out for the eighth, and he pitched a 1-2-3 inning, which included getting Freddie Freeman out. It was a great job by him.
It looked like Addison Reed was going to get the save opportunity until Uribe hit a two run double in the ninth. Reed still came on and secuted the 7-2 win.
Colon's battery mate, Plawecki, also had a good game. He went 1-3 with a double, a walk, and three RBIs, including an insurance run in the eighth. Overall, playing backups like Uribe, Johnson, and Plawecki allowed the Mets to rest Travis d'Arnaud, Daniel Murphy and his quad, and David Wright and his back.
That's the benefit of building a big lead. You get to rest some guys who need rest. When you're really good, you win those games, even when Yoenis Cespedes finally has an 0-fer. You win these games even with a two and a half hour rain delay and a flooded dugout:
https://twitter.com/kplawecki26/status/642113011398873088
Before moving along to the next game, our best wishes to Dan Warthen, who was not at the game because he had to go to the hospital with heart problems. I hope he gets better, and he comes back to enjoy this ride.