Where Does Matz Belong?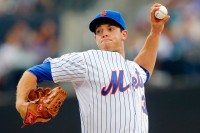 The Mets have recently made a few very important announcements regarding Steven Matz:
Matz will spot start in place of Noah Syndergaard on Saturday;
The Mets will shift to a six man rotation; and
Matz will not be a bullpen option.
In my opinion, the Mets are trying to accomplish two things: (1) they're trying to reduce the innings of the stud muffins; and (2) they're holding open auditions for the postseason rotation. I'm still not sure they're not tempting fate.
Now, let's start with the presumption that Jacob deGrom and Matt Harvey will be in the postseason rotation. This leaves two open slots in the rotation because we know the Mets will not allow anyone to start a game on three days rest. Let's look at the candidates individually.
Noah Syndergaard
By any measure, Thor is the Mets third best starter. He is 8-6 with a 3.31 ERA and 1.136 WHIP. He averages just over a strikeout per inning. His 3.38 FIP is the third best on the team, and it profiles him as an above average to great starting pitcher. So what's the problem?
First, more so than any other pitcher, he has an innings limit problem. Second, he has dramatic home/road splits. He has had 10 home and 10 road starts. Here's how he's fared:
Home: 7-1, 2.15 ERA, 0.831 WHIP
Road: 1-5, 4.91 ERA, 1.558 WHIP
So, he is really good at home, but he's bad on the road. One way to cure this is to set up the postseason rotation so he only starts at home. It may be difficult, but it's not impossible. Another thing to look at is how he's pitched on the road against the Mets possible play-off opponents:
5/12 @ Cubs (first career start): L, 5.1 IP, 3 H, 4 BB, 6 K, 3 ER
7/3 @ Dodgers: ND, 6.0 IP, 2 H, 2 BB, 6 K, 1 ER
7/17 @ Cardinals: L, 7.0 IP, 5 H, 1 BB, 6 K, 2 ER
Looking at these stats, I'm comfortable with him starting on the road at these places. He needs to be in the rotation.
Jon Niese
Well, we saw the return of the bad Jon Niese yesterday. He's had a rough year to the tune of 8-10 with a 4.17 ERA and a 1.37 WHIP. His FIP is a team worst 4.44 FIP, which profiles him as a bad starting pitcher this year.
We may have once assumed he was a lock for the postseason rotation after his strong June and July. He had respective ERAs of 3.00 and 2.87. His respective WHIPs were 1.333 and 1.021. Then the wheels came off. In August, he had a 5.17 ERA and a 1.309 WHIP. He continued the free fall last night. He cannot be an option for the postseason roster.
Bartolo Colon
Where to begin with Bartolo Colon? He's 12-11 with a 4.42 ERA. He has a 3.82 FIP, which profiles as an average starting pitcher, which is more than Niese can say. However, if you excuse the pun, Colon has fattened up on some bad teams.
Against the NL East, Colon has gone 11-1 with a 3.01 ERA. That means against non-NL East teams, his record is 1-10. Against possible playoff teams (Cardinals, Blue Jays, Cubs, Dodgers, and Pirates), he has gone 0-3 with a 4.85 ERA. These aren't great stats, and this may open the door for Matz.
Steven Matz
First off, let's start with the premise that while his first two starts were fun, we can't glean anything from them. He's a top prospect, but he is not better than Harvey or deGrom. You'd be hard pressed to convince me he's better than Thor. Second, let's remember he's still building up arm strength. In his last start, he only threw 77 pitches. Finally, he won't be pitching against the best teams in baseball.
If the Mets go with a six man rotation starting on Saturday, Matz will make the following starts:
9/5 at Marlins
9/11 at Braves
9/18 vs. Yankees
9/24 at Reds
10/1 at Phillies
As we see with Colon, you can pitch well against bad teams, but that doesn't mean you're going to pitch well against the good teams. No one should read anything into starts against four bad teams . . . even if they're bad starts. No one should. Unfortunately, if he's great, someone might. That's dangerous.
Bullpen Option
You know what you could determine? You can determine if Matz can pitch in the bullpen. You can put him in high leverage spots. If you're truly concerned about his health, you can institute a modified version of the Joba Rules. However, I have a real problem believing the Mets sincerity on the issue when Dan Warthen is playing doctor when Matz had injury complaints. Also, this is a way of limiting his innings and how much he needs to pitch with an abdominal tear.
The Cardinals are famous for this. Mets fans know with Adam Wainwright how well this works. We saw the Rays use this effectively in 2008 with David Price when they won the AL Pennant. I think the careers of Wainwright and Price have turned out just fine.
After Matz has his start on Saturday, the Mets should move him to the bullpen. If you care about his health, you will limit his innings. You don't use a September stretch run to stretch him out. Players get hurt that way. If you don't want him to get hurt, put him in the bullpen. Let him pitch multiple innings. Give him a few days off afterwards. See how he responds.
If he responds well, you have a dangerous weapon in the bullpen come October. If you're not sold, just remember what happened at the All Star Game. Imagine that in a playoff game . . . .