Mets Begin October Auditions with a LOOGY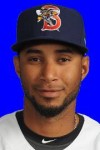 It's no secret the Mets have a hole in their bullpen. They need a LOOGY. With Dario Alvarez getting the call-up, the competition for the spot officially begins.
In actuality, the competition may have begun last night. With one out in the seventh, Terry Collins brought in Sean Gilmartin to face the left-handed Odubel Herrera and Ryan Howard. Herrera singled and Howard hit into a double play. If this was indeed the start of the competition, Gilmartin threw down the gauntlet.
Gilmartin has found a nice role for himself in the Mets bullpen as the long man. He has appeared in 42 games going 3-1 with a 2.17 ERA, 1.095 WHIP, and a 2.46 FIP. In sum, he's been fantastic. I'm sure he's been considered for the long man role in the postseason. It appears he's being considered for the LOOGY role as well.
The problem is the Mets are potentially looking to avoid a season's worth of data. They're also neglecting the adage that you never trust September results. The reason I mention this Gilmartin succeeds as a long man because he doesn't have severe platoon splits. In fact, he's slightly worse against lefties:
RHB .215/.288/.280
LHB .222/.282/.310
With that said, those are good numbers against lefties. Those numbers are on par with Eric O'Flaherty's career numbers against lefties: .209/.272/.272. Unlike Gilmartin, O'Flaherty can't pitch to righties. O'Flaherty gets pummeled by righties in his career to the tune of .277/.356/.392. Also unlike Gilmartin, O'Flaherty has been terrible this year and worse so with the Mets.
O'Flaherty has a 14.14 ERA with the Mets with a 2.429 WHIP and a 5.28 FIP. He's getting pummeled this year too. Righties are hitting .413/.496/.651. He hasn't been impressive as a LOOGY going .262/.333/.308 against lefties. If he's on the postseason roster and the opposition pinch hits a right when he comes into the game, watch out! That's the strength of using Gilmartin as a LOOGY. If there's a pinch hitter, he can handle it.
However, Gilmartin's ability to give you multiple innings cannot be ignored, and that is why, September or no September, Alvarez needs a good, hard look. He's pitched extremely well in AAA. Lefties and righties are batting .167 off of him. Given the fact that the PCL is a hitter's league this is all the more impressive.
So we know Alvarez has the talent. It's now an issue of whether his talent and AAA success translates to the majors. He has a lot riding on this, as do the Mets.