Eric O'Flaherty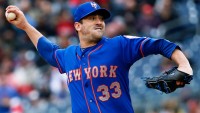 The way the Mets have been playing, and with the way the Narkins have been playing, this game was effectively over after the Mets four run third. Once Juan Uribe hit a three run homerun in the fifth, the game was over. By the way, this park is so cavernous thst Uribe's homerun was that much more impressive. Lucas Duda, himself tried to hit two out to CF and only came up with a SF in the ninth.
Rather than lifting Matt Harvey after five, when he was essentially assured the win, he came out for the sixth and the seventh. You don't throw him those additional unnecessary innings. Why even have Carlos Torres or Sean Gilmartin on the team if they can't eat up some innings in a laugher?
I hate to be negative after two sweeps and the Mets in first place, but I just don't understand what the Mets are doing. If Harvey has a no-hitter going, I understand. Absent that, he should've been pulled. It makes me question how many innings the Mets have wasted with him, Jacob deGrom, and Noah Syndergaard.
Further on the negative, Bobby Parnell was not good again. At least, Eric O'Flaherty came in and got out the lefty to snuff out the Markins only threat. He then let up two hits to lefties in the ninth to allow a run and give up the shutout. He let up a second run on an Ichiro RBI single. Collins' then had to use Hansel Robles, who threw gasoline in the fire.
Collins saw enough and was forced to bring in Jeurys Familia in a save situation in an inning that started 8-0. Talk about wasting a pitcher. Familia let up an RBI single to Dee Gordon to make it 8-6. By the time I was having Padres flashbacks, Familia induced Yelich to groundout to Duda to save the game. Again, if Torres and Gilmartin can't pick up these innings, I have no idea why they're on the team. By not using them, the Nets burned through a lot of arms.
In other Mets news, we may have seen the first cracks in the platoon system with Uribe playing and Kelly Johnson sitting against a righty.
I do want to focus on the Dee Gordon groundout to Daniel Murphy. He always comes to play. The Mets were up 7-0, and yet he's hustling on a routine ball to second. When he was initially ruled safe, he made Murphy look bad (correction: Murphy made himself look bad). Credit is due to Murphy there for immediately accepting responsibility for being lackadaisical. It reminded me of the famous George Brett quote:
I want to hit a routine grounder to second and run all out to first base, then get thrown out by a half step. I want to leave an example to the young guys that that's how you play the game: ALL OUT.
As a "Mets Daddy," I appreciate Gordon and Murphy there. It's great to be able to show him someone who not only plays the right way, but also someone who never gives up. I appreciate Murphy there because rather than make a scene because Gordon should've been called out (which he was after replay), he accepted responsibility. I know there was a lot better parts of the game to focus upon, but as a Dad and baseball fan that was my favorite play if the game.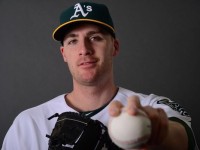 Finally, the Mets are addressing their second biggest roster hole: the lack of a LOOGY. The Mets have added Eric O'Flaherty for a player to be named later. I'm assuming the prospect will be of no consequence (although I'm leery with the Mets receiving cash), and accordingly, I love the trade.
Jerry Blevins had been brilliant to start the year. However, he broke his arm, and it took longer to heal than anticipated. He's finally been cleared to throw, but there is no timetable for his return. If he does come back, it'll give the Mets two LOOGYs. That'll be a nice weapon when you still have six games remaining against Bryce Harper and the Nationals.
For his part, O'Flaherty should only be used against lefties. He's holding lefties to a triple slash line of .186/.286/.209. He has not given up a homerun to a LHB. Conversely, he's gotten mauled by righties to the tune of .420/.491/.620.
This is also addition by subtraction because the Mets designated Alex Torres for assignment. At first glance, Torres' 3.15 ERA suggests he's pitched well. However, his peripherals are scary. He has an FIP of 5.68 and a 1.515 WHIP. Furthermore, he's a lefty who can't get out lefties. They're hitting a triple slash line of .268/.406/.393.
Overall, this is a good trade that addresses a real team need. The only downside is that it'll drive me even crazier that I can't get a personalized jersey.