Steve Trachsel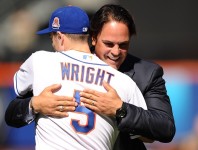 With Mike Piazza finally getting elected to the Hall of Fame and this current Mets offseason, I've been thinking a lot about missed opportunities in Mets history. For me, the 2000 offseason and 2001 season might've been the biggest missed opportunity in Mets history (or at least my lifetime).
Coming off a disappointing loss in the World Series, the Mets had a ton of important decisions to make. The most intriguing one was Alex Rodriguez. The Mets passed calling him a 24 and 1 type of player. The biggest free agent in baseball history, a 25 year old shortstop with 40/40 capability, and the Mets weren't interested. They weren't interested despite A-Rod wanting to be a Met. The Mets wouldn't sign a big bat in lieu of him.
The next big decision was NLCS MVP Mike Hampton. The Mets have up a lot to get him, namely Roger Cedeno and Octavio Dotel. However, Hampton delivered. He was 15-10 with a 3.14 ERA. He won a Silver Slugger. He was an ace. He and Al Leiter were terrific that year during the regular season, and they helped pitch the Mets to the World Series. The Mets wouldn't outbid the Rockies, who offered him the biggest contract in baseball history (until A-Rod signed with the Rangers) and the benefits of the Denver school system.
With the Mets missing out with these two players (and Mike Mussina), the Mets decided to build a deep, cost effective starting rotation. By the way, where have we heard of a World Series losing team choosing depth over high-end expensive players? In any event, the Mets re-signed Rick Reed and added Kevin Appier and Steve Trachsel. The last two moves were about as popular now as they were then.
The end result? The Mets got a compensatory pick for Mike Hampton (more on that in a minute) and an 82-80 record. It would be the last year the Mrts finished above .500 until 2005, which was Piazza's last year with the Mets. The end of Piazza's prime was wasted by the Mets. He would never return to the postseason with them. He would never play in another World Series. Was it worth it? Well, it depends on your point-of-view.
For me, the pivotal figure in this inquiry is Hampton. For startees, I say Hampton because I believe the Mets were never truly enamored with A-Rod. The Wilpons and Nelson Doubleday were fighting over the valuation of the Mets. The Wilpons were buying out Doubleday, and they didn't want the value of the franchise to increase any further. A-Rod would've done that. Furthermore, it's likely they would've had a hard time signing A-Rod, building a pitching staff, and buying out Mr. Doubleday. Hence, it was Hampton and not A-Rod as the pivotal figure.
We know Hampton was terrible in Colorado, but then again most pitchers are. It's fair to assume, he would've continued pitching as well as he did in 2000 for the next year or two with the Mets. That's about a pitcher with a 4.7 – 6.6 WAR. Would that have been sufficient to keep the Mets afloat in 2001? Would he have been enough to rescue an offense with the least runs scored in all of baseball that year?
We don't the the corresponding moves. We also don't know if the lack of moves created a negative vibe over a Mets team that sputtered out of the gate in 2001. This was a team that was Jekyll and Hyde. It was 38-51 in the first half and 44-29 in the second half. In reality, their second half push came too late leaving them no margin of error, as we know all too well with yet another huge Armando Benitez blown save.
Maybe with Hampton the season starts off different. It's possible the Mets don't make the flurry of moves they did in 2002 that proved disasterous. Maybe with Hampton the Mets make the postseason in 2001 and/or 2002. Maybe Piazza gets his ring. Maybe Mets fans are not waiting 30 years for a World Series. We don't know. All we know is two things: (1) the Mets missed Hampton; and (2) Hampton leaving might've been the best case scenario.
The second reason Hampton is the pivotal figure is the player the Mets got in his stead. When Hampton left, the Mets received a compensatory pick. With that pick the Mets selected one of the best high school bats. The Mets got a third base prospect by the name of David Wright. Wright has been a big part of Mets history. He's the Mets All-Time leader in games played, runs, hits, doubles, RBI, and walks. He's second in homers. He's hit the first a Mets homerun at Citi Field and the first World Series homerun at Citi Field. He was a big part of two postseason teams, which is no small feat in Mets history.
Essentially, you cannot tell the story of the Mets without David Wright. It's unfathomable to imagine Wright in another uniform. However, I ask you has he been worth it? Was he worth wasting away the last years of Piazza's prime? Was he worth losing all momentum from the 1999 and 2000 seasons? Would you rather have had a shot for another World Series run back then in exchange for Wright's entire career?
Before answering, I ask that you keep some thoughts in mind. The first is if Hampton returns, you don't hate him the way you do now. In fact, you may not hate him at all. Next, I'm not asking you to assume the Mets win the World Series Hampton re-signs. I'm only requesting you think about how he would've impacted the 2001 Mets and/or his impact in subsequent years. With that in mind, what do you do?
Now, if you asked me this question in 2000, I'm taking Hampton. No doubt about it. Hampton was a much better option than Appier. If the Mets got Hampton and Appier without signing Trachsel, even better. However, I'll be honest, while I can separate myself from my hatred of Hampton, I can't separate myself from my love of David Wright.
Sure, Piazza is my favorite player, but Wright has also been a terrific Met. He's a homegrown Met. He has a contract that may make him a lifetime Met. Generally speaking, Wright has been everything good about the sport of baseball since he was called up. He's created some great memories for Mets fans. His name is all over the record books. I'm not sure I could part with that, perhaps not even at a chance at a World Series.
So begrudgingly, I believe I'd pick the entire career of David Wright over the possibility of another World Series title. Sure, World Series titles are rare, but so are the David Wrights of the world. I'm hoping in 2016 Mets fans can celebrate both Wright and a World Series title. It's a lot more fun than playing the what if game.