Ramon Ramirez
In an ill-fated trade with the San Francisco Giants, the Mets had obtained Andres Torres and Ramon Ramirez in exchange for Angel Pagan. In Torres, the Mets got not just the best player in team history to wear the number 56, but also an advocate for ADHD.
Torres had been diagnosed with ADHD, and he spoke at length about its impact on his life and his baseball career. he would go on to do interviews and a documentary about it. That was his significant off the field contributions. On the field, he had a very underappreciated season.
One reason for his season being underappreciated was Torres had dealt with early injuries, and at one point, he was mired in an 0-for-18 streak in the second half. Another reason why it was underappreciated was Pagan went to the Giants, and he had a very good year for a Giants team which won the World Series.
Little did people know at the time, but Torres would have a very good defensive year posting a 4 DRS in center. To put in perspective how good a year that was defensively, since the inception of DRS, only four other Mets have posted a better single-season DRS, a list which includes Gold Glovers Carlos Beltran and Juan Lagares, but surprisingly not Mike Cameron.
At the plate, Torres did not have a particularly strong season with an 88 wRC+. That said, he joined Jose Reyes as the only two Mets players to have multiple games in a season where they hit a homer and a triple. When all was said and done, Torres had amassed a 1.5 WAR which is higher than the other 1o players who wore the uniform with the New York Mets, which is why he's the best Mets player to ever wear the number.
Previous
1.Mookie Wilson
2.Mackey Sasser
3. Curtis Granderson
4. Lenny Dykstra
5. David Wright
6. Wally Backman
7. Jose Reyes
8. Gary Carter
9. Todd Hundley
10. Rey Ordonez
11. Wayne Garrett
12. John Stearns
13. Edgardo Alfonzo
14. Gil Hodges
15. Carlos Beltran
16. Dwight Gooden
17. Keith Hernandez
18. Darryl Strawberry
19. Bob Ojeda
20. Howard Johnson
21. Cleon Jones
22. Al Leiter
23. Bernard Gilkey
24. Art Shamsky
25. Pedro Feliciano
26. Terry Leach
27. Jeurys Familia
28. Daniel Murphy
29. Frank Viola
30. Michael Conforto
31. Mike Piazza
32. Jon Matlack
33. Matt Harvey
34. Noah Syndergaard
35. Rick Reed
36. Jerry Koosman
37. Casey Stengel
38. Skip Lockwood
39. Gary Gentry
40. Bartolo Colon
41. Tom Seaver
42. Ron Taylor
43. R.A. Dickey
44. David Cone
45. Tug McGraw
46. Oliver Perez
47. Jesse Orosco
48. Jacob deGrom
49. Armando Benitez
50. Sid Fernandez
51. Rick White
52. Yoenis Cespedes
53. Chad Bradford
54. T.J. Rivera
55. Orel Hershiser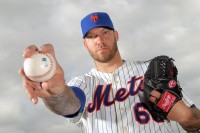 I remember back when Jose Reyes left the Mets for the Marlins. I was angry. The Mets were in the beginning stages of the Madoff fallout, and Reyes was the first casualty of that.
After the Reyes' signing, the Mets proceeded to become curiously active the next day. The Mets signed Jon Rauch and Frank Francisco. They also traded Angel Pagan for Ramon Ramirez and Andres Torres. Sure, the Mets lost their homegrown All Star shortstop, but look over here, look at the flurry of moves. Nothing to see in Miami. We're having a press conference on SNY to announce the addition of FOUR . . . count them . . . FOUR NEW PLAYERS! The Mets would be terrible in 2012 finishing in fourth place with a 74-88 record.
Today had that type of feel to me. The Mets lost Ben Zobrist to the Cubs, and they didn't look particularly good in the process. So naturally, the Mets went back to what they do best: deflection. Instead of rebuilding their bullpen, they rebuilt their middle infield by trading for Neil Walker and signing Asdrubal Cabrera.
Now, I have said both of these players were worth investigating. However, I would've preferred keeping Daniel Murphy and Jon Niese over adding Walker. In that scenario, the Mets still could've added Cabrera. Right now, I'd probably be commenting how the Mets vastly improved their middle infield situation. Instead, I'm baffled how the Mets traded away another pitcher while adding a poor defensive SS on a two year deal.
I'll admit I was distracted a little bit four years ago. I wasn't the biggest Angel Pagan fan. Now, I'm just wondering why the cost saving moves instead of bringing back the NLCS MVP. I'm also curious as to why an organization that values OBP added low OBP players. I'm nonplussed at the Mets adding yet another steroids guy to the roster.
I would've accepted all of it if the Mets were made better in the process. However, they didn't. They're worse off defensively, and they lost a reasonably priced starting pitcher. I just see the same bluster I saw four years ago.
It leaves me feeling sad. My son's favorite player will be playing elsewhere next year. He's disappointed to say the least. There's nothing the Mets can do to make me forget that.