Thank You Kirk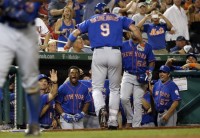 There are always players we like more than others. Putting aside Obviously Mets, I liked Kirk Nieuwenhuis more than your average fan.
Every year, my brother and I have the same argument. I think of Nieuwenhuis as a useful player. He's a solid defender at three outfield positions. He is a platoon player/fourth outfielder. His problem has always been the fact that he's overexposed by a poor Mets team needing to play him more frequently than he should.
Most Mets fans were like my brother. They saw a guy with admittedly underwhelming statistics. At times, Kirk was one of the symbols of what was wrong with the Mets. This season the Mets were so bad offensively that they had to bring back Kirk after he was released by the Angels. The Angels had originally obtained him after the Mets designated him for assignment.
When he returned, he would become the first Met to hit three home runs in a home game:
He helped send the Mets into the All Star Break with a sweep of the Diamondbacks. He helped the Mets stay within two games of the Nationals. This allowed the Mets to make some deadline moves to help overtake the Nationals. He then put the final nail in the 2015 Nationals coffin:
Kirk went from cast away to afterthought to a contributor. He would make the post season roster. Unfortunately, he won't be on the roster next year to help the Mets defend their National League title. A title he helped the Mets obtain.
No, Kirk is now a Brewer. He was put on waivers to make room for Alejandro De Aza. I'd prefer the Mets to waive someone else. I'd like Kirk to remain with the Mets. This time though the Mets will lose a homegrown player to the Nationals. There's no hip issues stopping this move. None. Unlike Wilmer Flores, Kirk is now an ex-Met.
Kirk will never be forgotten. He's the answer to a trivia question. I'll remember him more for that pinch hit homerun. I'll remember him more for how hard he played. I'll always appreciate him for what he did with the Mets.
Thank you Kirk.