De Aza Fits the Mets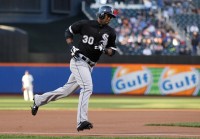 Apparently, the Mets are in no rush to acquire a centerfielder who can hit right-handed pitching:
The #Mets have Denard Span, Will Venable and Alejandro De Aza on their radar as left-handed CF options. They're slow-playing it.

— Jerry Crasnick (@jcrasnick) December 21, 2015
The name there that is new is Alejandro De Aza. He will turn 32 next year, and he's a left-handed outfielder. In his career, he has hit .274/.338/.418 against righties. He hit .278/.351/.448 against them last year while playing 90 games for three different teams. So he fits as a platoon partner for Juan Lagares offensively. The question is how does he fit defensively?
He's not bad actually. Not great, but not bad. For some reason, he only played CF eight innings last year, but his career UZR there is 1.8, meaning he can handle the position. Typically, he averages a 0.2 per season.
Does he have the potential upside of a Denard Span? No, but he also doesn't have the same downside. Span has just had labrum surgery on his hip on top of two other surgeries. Span has been as defensively two years running. While he and De Aza are the same age, Span has a lot more tread on those tires.
De Aza is also a definitive upgrade over Kirk Nieuwenhuis. While they are similar defensively, De Aza hits righties much better. Nieuwenhuis hit righties .210/.277/.403 last year and .245/.314/.423 for his career.
Overall, De Aza is the perfect fit for the Mets. He hits righties. He can play a respectable centerfield. He's also going to be cheap. De Aza made $5 million last year. There's no reason to expect he'll make much more than that. It's also possible he signs for less. With the Mets current financial situation, De Aza should be the direction they go.
You know what you're getting from him. He's going to provide exactly what you need. If Lagares rebounds, you can justify sitting De Aza for him. Also, did I mention he's going to come cheap? If you're getting Span on a one-year heavy incentive laden deal, I understand going that direction. However, his agent may have something to say about that.
With all that said, I'll take De Aza.