Why Three Aces Are Better Than Two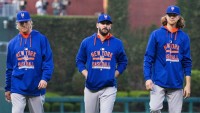 While Terry Collins has made some strange tactical decisions, he made one very good one. He has started Noah Syndergaard in Game Two of the NLDS and the NLCS. This means he has gone up against Zack Greinke, and he will go up against Jake Arrieta. Depending on your point of view, he will have gone up against the two best pitchers in the NL this year.
It also means the Mets have set themselves up nicely in a pivotal Game Three of a series. In the first round, Thor had actually outdueled Greinke, but for an egregious call. As a result of that call, the NLDS was tied 1-1 instead of 2-0. The Mets got a 2-1 lead in large part because of the big advantage the Mets had in the Matt Harvey–Brett Anderson matchup.
Regardless of what happens tonight, the Mets have a huge advantage in Game Three. The Mets will be throwing Jacob deGrom (14-8, 2.54 ERA) against Kyle Kendricks (8-7, 3.95 ERA). Now, anything can happen, but you have to like the Mets chances to go up 2-1 or 3-0.
The Mets are fortunate they have three great pitchers. Yes, Thor is their third best pitcher, but he's almost as good. As he showed in the NLDS, he can matchup with the best pitchers in the game. Anytime he toes the rubber, you have to believe the Mets have a chance to win. The Mets will tonight. They will in Game Three too.
They have a chance to win the World Series.