Tyler Yates Cost the Mets the 2006 World Series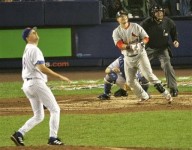 With my Back to the Future post yesterday, I began to think about how some seemingly innocuous decisions had an impact on the Mets future. In 2004, the Mets organization put way too much stock in Spring Training performance and gave Tyler Yates a rotation spot and sent Aaron Heilman to AAA.
Yates was terrible as a starter. He allowed batters to hit .317/.405/.475 against him in seven starts. He had a 6.34 ERA and a 1.929 WHIP. I'm still stunned he went 1-4. He should've gone 0-7. Actually, he should never have started a game. The spot should've gone to Heilman.
Instead, Heilman spent most of the year in AAA. He made a few starts in 2004 and 2005, but he was mostly used as a reliever. Going into the 2006 season, Heilman found himself in another battle for the fifth starter spot. He lost the battle, but he became a quality set-up man.
Heilman started as the seventh inning guy. He took over the eighth inning after Duaner Sanchez's cab ride. For the year, he went 4-5 with a 3.62 ERA and a 1.161 WHIP. He allowed batters to hit .231/.298/.332. However, we remember none of this. We remember him as the guy who allowed the Yadier Molina homerun. We remember him as the guy who lost Game 7 of the 2006 NLCS. Ironically, we don't have the same memories of Rick Aguilera.
The reason is the Mets rallied in 1986 whereas the 2006 Mets didn't. Maybe the Mets aren't in that position if Heilman made the starting rotation in 2004 and stayed there. It's possible Heilman would've gone the way of Masato Yoshii or Mark Clark. They were good pitchers that were with the Mets for a short time. However, unless you're a diehard, you have no lasting memories of them.
We do have a lasting memory of Aaron Heilman. His path there was all started because the Mets thought Tyler Yates was a better starting pitcher in 2004.