I am Harvey's Dented Tricep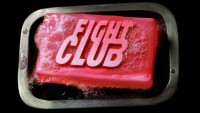 In Game One of the NLCS, a comebacker hit Matt Harvey in the right arm. The ball was said to have "dented" Harvey's triceps putting his next start into question. When questioned about it, Harvey gave a Narrator type of response:
"I'm not a trainer. I'm not Harvey's arm." That's David Wright's medical assessment of Matt Harvey for Game 5

— Mike Vorkunov (@MikeVorkunov) October 19, 2015
"I'm not Harvey's arm" is what the Narrator would say. It reminded me of Jack's writings found in the Paper Street House. I could see the Narraor reading something entitled "I am Harvey's Dented Tricep." The next line would be something along the lines of "I injure Harvey and I ruin his career."
For all we know, Harvey is Tyler Durden. If I'm right that makes Bartolo Colon Robert Paulson. It would also make Noah Syndergaard Angel Face. When Colon gets knocked out early in the game getting roughed up, I could see Thor leading the pitching staff in a "His name is Bartolo Colon" chant.
It could also explain some of Harvey's behavior. When he's talking about innings limits and his career, he's being the narrator. When he's complaining about the six man rotation, he's Tyler Durden. The Tyler Durden side of his wants to throw acid all over his career screaming, "First you have to bear down, first you have to know, not fear, know that someday your career is going to be over."
This Harvey, err Durden, wants to pitch three times in the World Series. He wants to unleash his pitching repertoire causing mayhem and confusion on the Royals bench. The Royals won't be talented or uniquely talented; they'll all be strikeout victims. I can see the Royals saying they haven't been struck out that way since grade school.
Pretty clever, huh? Good I'll keep it up then.
He's going to stand on the mound in Game 1 of the World Series and say, "I want you to hit me as hard as you can." When he strikes them out, he'll lecture them saying, "Listen to me! You have to consider the possibility that God does not like you, never wanted you, and in all probability he HATES you." He'll strike them out because they're too young, too fat, too old.
At the end of the games, all stories will be "I am Harvey's Game One victory."