Where's Dario Alvarez?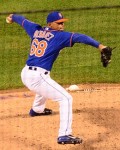 The Mets have announced what I presume is their first group of September call-ups. These players include Eric Campbell, Kevin Plawecki, Kirk Nieuwenhuis, and Eric Young, Jr. It's fitting these four are the ones being called up first because they have a legitimate shot at being on the postseason roster, especially Plawecki.
When I looked at this list, I was surprised that Dario Alvarez's name wasn't on the list. With Eric O'Flaherty struggling and the Mets refusal to put Steven Matz in the bullpen, there are no lefty options. As the August 31st waiver trade deadline has passed, another one cannot be acquired. The Mets need to figure this out.
The Las Vegas 51s season ends on the 7th. They're in last place, so there won't be any playoffs for them. The Mets apparently don't care about the 51s season, and nor should they. That's why they gutted their roster. Why they left Alvarez behind is beyond me. He's been terrific in AAA. He is 2-1 with a 2.61 ERA and a 0.871 WHIP.
Alvarez belongs in the majors, especially with the LOOGY problem unresolved. I don't know that Alvarez is ready to be a LOOGY. I don't know if O'Flaherty can fix his issues in September to become the LOOGY the Mets need in the playoffs. What I do know is the Mets need to figure something out soon. They could be facing Adrian Gonzalez, Jason Heyward, Matt Carpenter, Pedro Alvarez, and/or Anthony Rizzo. It would be nice to have a lefty to get those guys out.
It's funny with all the Mets moves, this is the one area they haven't been able to properly address. I'd hate to see them LEFT out of October glory for that reason.
UPDATE: it was pointed out to me by Jack Ramsey that Alvarez is not available to be called up until tomorrow. This post will be more pertinent tomorrow.