EY's Back, Back Again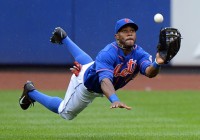 As I've said a number of times, one of the biggest mistakes the Sandy Alderson regime made was acquiring Eric Young, Jr. Well, he's back again.
My first reaction was: not again. In his two years with the Mets, he slashed a .242/.310/.321. Despite these poor numbers, Terry Collins always batted him leadoff because he is fast and can steal bases. In fact, he lead the league in stolen bases as a Met in 2013. It was always my impression, Collins always played EY more than he should.
We always seem to like certain guys and not others. For example, if you really want to hear me go off, ask me about Ramon Castro. Collins likes EY. He also loves batting Juan Lagares in the leadoff spot. You see my problem was never with EY. He seems like a nice guy. He always hustled. He has positive attributes as a baseball player. My problem is with how Collins used EY.
I hope it won't be a problem this time around. There's enough of a glut in the OF for Collins to try to shoehorn EY in there. There's too many 2B options to try to force EY in there. So naturally, the question is: why bother acquiring him?
The answer may surprise you. He's a realistic option for the postseason roster. You read that right. Keep in mind, he won't be anything more than the last man on the bench, but he's still a viable option.
For starters, EY can play multiple positions. As per UZR, he's an average 2B, great in LF, and slightly below average in CF and RF. That pretty much makes him their best defensive 2B and their second best defensive LF. He would be the defensive answer to what the Mets envision Kelly Johnson is offensively.
Next, let's not discount the speed. As I already noted, EY has won a stolen base title. He's successful 81% of the time on SB attempts. This is impressive when you consider an acceptable percentage is 75%. Also, we all remember that it was Dave Roberts who helped propel the Red Sox to overcome the 0-3 deficit with this SB:
So even though I don't fully trust Collins with EY, I have to admit adding EY this time was a good move. Let's just get him on the 40 man roster to make him postseason eligible.