Selecting the Wright Lineup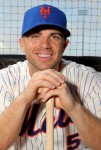 Today is the day David Wright comes off the DL. We know he will play 3B. We don't know much more than that.
Actually that's not entirely true. We know Curtis Granderson will hit leadoff except when there's a lefty in the mound. Then Juan Lagares will hit leadoff. We also know Terry Collins wants Wright batting second. We know there's a platoon system. I also assume we know the pitcher is batting ninth. I also assume Collins will try to alternate lefties and righties in the lineup. We'll see later today, but I presume the lineup against righties would look like this:
Granderson RF
Wright 3B
Murphy 1B
Cespedes CF
Johnson 2B
d'Arnaud C
Conforto LF
Tejada SS
Pitcher
Against lefties, the lineup may look like this:
Lagares CF
Wright 3B
Murphy 2B
Cespedes LF
Granderdon RF
Cuddyer 1B
d'Arnaud C
Tejada SS
Pitcher
Of course, Collins likes to tweak it here and there to get Wilmer Flores [standing ovation] some ABs. I can also see him batting Granderson second against lefties with Wright third and Murphy fifth. I also assume Anthony Recker bats eighth when he plays.
Anyway, with the rough time Collins has been having, it's hard to completely judge how he'll map up the lineup. This is especially evident with him batting Juan Uribe cleanup. With Wright only playing four games in a row, there will be plenty of chances to do that. Overall, the challenge is not just setting the lineup, but it's also keeping everyone engaged. Furthermore, it's about keeping Wright healthy.
When Lucas Duda comes BACK, there will be some real challenges getting ABs for Uribe and Johnson. If argue the real challenge them would be making sure Collins doesn't give them regular ABs and let the best players play.