It's Just One Game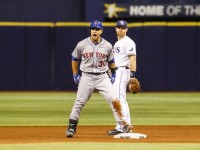 Take a breath and repeat after me: "It's just one game."
Yeah, but the Rays ended the Mets seven game winning streak.
"It's just one game."
The Mets blew a three run first inning lead after a hard fought win last night killing all momentum.
"It's just one game."
The Mets road record this year has worsened to 21-33.
"It's just one game."
Noah Syndergaard continued his bad pitching on the road.
"It's just one game."
The Nationals won tonight with a strong start from Stephen Strasburg, who just came off the DL.
"It's just one game."
The Mets have Bartolo Colon going tomorrow against Chris Archer.
Okay, you're getting to me a little, but "it's just one game."
The Nationals have Max Scherzer going tomorrow, and the Mets only have a one God lead in the loss column.
Ummmm . . . "it's just one game?"
Ruben Tejada wasn't good in the field AGAIN.
You're right. I agree the Mets need a SS, but really all tonight was about was one loss. We can't make it more than it was . . . even if some evidence points otherwise.
Let's look at some positives. The bullpen was good tonight, after having some missteps recently, especially Sean Gilmartin. Curtis Granderson continues to hit well. Also, it's great that so many Mets fans attended the game that the Rays had to remove the tarps to open up additional seating.
So yes, a 5-4 loss is tough especially when your young and budding ace seemingly takes a step back in only going four innings. It's tough giving a game back in the division to a team like the Nationals, who just got a huge piece back.
However, it's a legitimate pennant race. It's supposed to be fun. I know I get too caught up in the game to game nonsense. One day it looks like the division is a lock; the next it looks like all this trades were all for naught.
Even if Colon and Tejada are playing tomorrow, I'm still excited. I hope you are too. Even if they lose tomorrow and the Nationaks win, just remember "it's just one game," and the Mets can bounce back tomorrow.