Angel Pagan
In Wednesday's Wild Card Game, Noah Syndergaard will have to be at his best because Madison Bumgarner is not only a great postseason pitcher, but he is also great against the Mets. In Bumgarner's career, he has made six starts against the Mets going 5-0 with a 1.86 ERA and a 1.025 WHIP. In four starts at Citi Field, Bumgarner is 4-0 with a 0.62 ERA and a 0.828 WHIP.
The only time Syndergaard and Bumgarner have gone head-to-head was on May 1st of this year in a matchup that was best remember by Mets fans as the day Michael Conforto began struggling. Bumgarner would get the better of that matchup earning the win over Syndergaard, who struggled in the wet weather. In Syndergaard's career, he has made three starts against the Giants going 1-2 with a 3.66 ERA and a 1.119 WHIP. He's going to have to be better than that if the Mets are going to have a chance to win the Wild Card Game. Simply put, Syndergaard is going to have to be dominant against a Giants 40 man roster he has fared pretty well against in his career:
Presumed Starting Lineup:
Bench
Never Faced (2016 v. RHP):
Looking over the numbers, the only batter that scares you facing Syndergaard is Posey. Fact is, no matter what the numbers were, you were going to be scared of him no matter what. Other than Posey, and one bat pitch to Pence, Syndergaard has completely dominated this Giants team. Therefore, if Syndergaard goes out there and pitches against the Giants players like he always does, the Mets stand to have an excellent chance of outlasting Bumgarner and winning the Wild Card Game.
Editor's Note: this was first published on Mets Merized Online.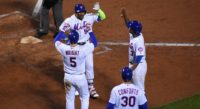 All you need to know about tonight's game is the Mets scored a franchise record 12 runs in the third inning. Here's how it happened:
A 12-run inning? That's the highest-scoring frame in @Mets history. https://t.co/mLUBSOeNVe pic.twitter.com/4eUVXnWN2U

— MLB Stats (@MLBStats) April 30, 2016
Watch @ynscspds cap off our 12-run inning with a grand slam! #Metshttps://t.co/0Z4NwYW4Gb

— New York Mets (@Mets) April 30, 2016
As Ron Darling would later say, "You got the feeling that the inning might not ever end." This inning was a far cry from the 2015 Mets June/July offense. The Mets sent 15 batters to the plate. The only Mets batter that didn't reach base or score at least once was pitcher Steven Matz. With his grand slam and six RBI, Yoenis Cespedes broke Butch Huskey's team record of five RBI in one inning. Who knew?
The inning was so impressive Jake Peavy's ERA went from 6.86 to 8.61. The Mets scored half their runs off Peavy and the other half off of sacrificial lamb Mike Broadway. His ERA went from 3.86 to 11.81.
Matz lasted six innings allowing seven hits, zero earned, three walks, and four strikeouts. It wasn't a dominating performance. He only had one 1-2-3 inning. With that said, he more than got the job done. The only run scored by the Giants was a leadoff homerun on the seventh inning by Angel Pagan off of Jerry Blevins. It was a good decision by Terry Collins to give Blevins a full inning of work in a blowout. Blevins has been the least used member of the bullpen.
As if they were irritated by Pagan's homer, the Mets rallied again in the seventh to score a run. The 13th run of the game was scored on a Juan Lagares RBI single. Logan Verrett pitched a scoreless eighth, and Antonio Bastardo pitched a scoreless ninth to close out the 13-1 victory. I'm assuming Verrett, the long man in the pen, didn't pitch two innings because Terry Collins' Magic 8 Ball told him to do it.
This was the Mets first game this season against a National League team that was expected to be a contender for not only the postseason, but also the World Series.
Game Notes: Kevin Plawecki threw out Brandon Belt in the second. He's now 5-9 in throwing out would be basestealers. Since taking over for the injured Travis d'Arnaud, he's gone 2-13. David Wright, who for some reason wasn't pulled, continued his throwing issues with a throwing error in the eighth. Eric Campbell entered the game to play LF in the eighth. Michael Fulmer made his debut for the Tigers against the Twins. He went five innings allowing two earned, one walk, and four strikeouts.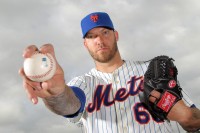 I remember back when Jose Reyes left the Mets for the Marlins. I was angry. The Mets were in the beginning stages of the Madoff fallout, and Reyes was the first casualty of that.
After the Reyes' signing, the Mets proceeded to become curiously active the next day. The Mets signed Jon Rauch and Frank Francisco. They also traded Angel Pagan for Ramon Ramirez and Andres Torres. Sure, the Mets lost their homegrown All Star shortstop, but look over here, look at the flurry of moves. Nothing to see in Miami. We're having a press conference on SNY to announce the addition of FOUR . . . count them . . . FOUR NEW PLAYERS! The Mets would be terrible in 2012 finishing in fourth place with a 74-88 record.
Today had that type of feel to me. The Mets lost Ben Zobrist to the Cubs, and they didn't look particularly good in the process. So naturally, the Mets went back to what they do best: deflection. Instead of rebuilding their bullpen, they rebuilt their middle infield by trading for Neil Walker and signing Asdrubal Cabrera.
Now, I have said both of these players were worth investigating. However, I would've preferred keeping Daniel Murphy and Jon Niese over adding Walker. In that scenario, the Mets still could've added Cabrera. Right now, I'd probably be commenting how the Mets vastly improved their middle infield situation. Instead, I'm baffled how the Mets traded away another pitcher while adding a poor defensive SS on a two year deal.
I'll admit I was distracted a little bit four years ago. I wasn't the biggest Angel Pagan fan. Now, I'm just wondering why the cost saving moves instead of bringing back the NLCS MVP. I'm also curious as to why an organization that values OBP added low OBP players. I'm nonplussed at the Mets adding yet another steroids guy to the roster.
I would've accepted all of it if the Mets were made better in the process. However, they didn't. They're worse off defensively, and they lost a reasonably priced starting pitcher. I just see the same bluster I saw four years ago.
It leaves me feeling sad. My son's favorite player will be playing elsewhere next year. He's disappointed to say the least. There's nothing the Mets can do to make me forget that.