Bakers Dozen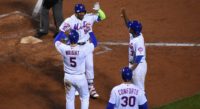 All you need to know about tonight's game is the Mets scored a franchise record 12 runs in the third inning. Here's how it happened:
A 12-run inning? That's the highest-scoring frame in @Mets history. https://t.co/mLUBSOeNVe pic.twitter.com/4eUVXnWN2U

— MLB Stats (@MLBStats) April 30, 2016
Watch @ynscspds cap off our 12-run inning with a grand slam! #Metshttps://t.co/0Z4NwYW4Gb

— New York Mets (@Mets) April 30, 2016
As Ron Darling would later say, "You got the feeling that the inning might not ever end." This inning was a far cry from the 2015 Mets June/July offense. The Mets sent 15 batters to the plate. The only Mets batter that didn't reach base or score at least once was pitcher Steven Matz. With his grand slam and six RBI, Yoenis Cespedes broke Butch Huskey's team record of five RBI in one inning. Who knew?
The inning was so impressive Jake Peavy's ERA went from 6.86 to 8.61. The Mets scored half their runs off Peavy and the other half off of sacrificial lamb Mike Broadway. His ERA went from 3.86 to 11.81.
Matz lasted six innings allowing seven hits, zero earned, three walks, and four strikeouts. It wasn't a dominating performance. He only had one 1-2-3 inning. With that said, he more than got the job done. The only run scored by the Giants was a leadoff homerun on the seventh inning by Angel Pagan off of Jerry Blevins. It was a good decision by Terry Collins to give Blevins a full inning of work in a blowout. Blevins has been the least used member of the bullpen.
As if they were irritated by Pagan's homer, the Mets rallied again in the seventh to score a run. The 13th run of the game was scored on a Juan Lagares RBI single. Logan Verrett pitched a scoreless eighth, and Antonio Bastardo pitched a scoreless ninth to close out the 13-1 victory. I'm assuming Verrett, the long man in the pen, didn't pitch two innings because Terry Collins' Magic 8 Ball told him to do it.
This was the Mets first game this season against a National League team that was expected to be a contender for not only the postseason, but also the World Series.
Game Notes: Kevin Plawecki threw out Brandon Belt in the second. He's now 5-9 in throwing out would be basestealers. Since taking over for the injured Travis d'Arnaud, he's gone 2-13. David Wright, who for some reason wasn't pulled, continued his throwing issues with a throwing error in the eighth. Eric Campbell entered the game to play LF in the eighth. Michael Fulmer made his debut for the Tigers against the Twins. He went five innings allowing two earned, one walk, and four strikeouts.