What's the Wright Timeline?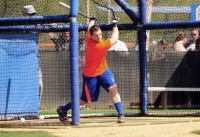 When David Wright first started baseball activities, I offered as to what the timeline for his return would look like. Now we know, if all goes well, he'll start minor league games on Monday.
Using the proposed 41 day parameter, Wright would be ready to be called up by Saturday, September 19th in a game against the Yankees. That would leave Wright with 15 major league games to get ready for the postseason.
However, MLB rehabilitation rules limit a position player to a maximum of 20 days. Therefore, barring any setbacks, David Wright should be back in action on Sunday, August 30th against the Red Sox. Since this game will not be moved, it's a good time to bring the family to a game during a pennant race.
It would be nice to have a Mr. Met Dash again where you can run by the position David Wright most recently played.