Terry Collins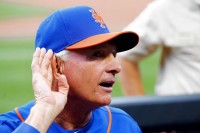 In his heart of hearts, Terry Collins is an old school manager. You reward players with playing time. If you don't do your job, take a seat on the bench. This team, while imperfect, is perfect for Collins.
Now, players will have to earn playing time. Before, Collins was throwing just praying that whatever buttons he hit would produce a run. This is not to disparage Collins. While I sometimes question his in game moves (like using Familia in the ninth tonight instead of Logan Verrette or Alex Torres) nothing that has happened with the offense thus far is his fault.
However, the pressure is all on him now. This team has interchangeable parts with limitations. He really only has three good defensive players: Juan Lagares, Juan Uribe, and Lucas Duda. There are only four players with an OPS over .700: Duda, Granderson, Johnson, and Uribe (even if there are problems with OPS calculation). For most of the season, the problem was how to get blood from a stone. Now, it is don't screw it up. Saturday night was a great start to say the least. The Mets only scored the most amount of runs they scored in Citi Field.
I'd argue the most important development was Duda's two HR game. For most people, present company included, Duda's problems were lack of lineup protection and the weight of carrying this team. If Saturday night is any measure, the pressure is off, and he's back to being the middle of the order threat the Mets need.
A very close second was Comforto's night. Remember the old adage: sometimes the best trades you make are the ones you don't make? Well, if the Mets got Parra, Conforto is still in AA. Conforto looks ready this is confirmed by his 4-4 game with 4 runs scored and an RBI. On a night like tonight, I'll give the Mets the benefit of the doubt that Conforto needed those minor league ABs.
The third important development was Kelly Johnson and Daniel Murphy getting the start and taking advantage of the opportunity. Both players homered and gave Collins no reason to take them out of the lineup. It was also a smart move for Collins to get Uribe in the game. It was also good to see Uribe get a hit.
The rest was gravy. Matt Harvey was Matt Harvey. Apparently now, he's a real threat at the plate with three consecutive multiple RBI games. Nieuwenhuis seems to be hitting again. The Mets finally beat up on weak pitching. There seemed to be a different energy to this club and to the ballpark. There was a lot to like.
However, we need to reserve judgment until tomorrow when Zack Greinke takes the mound. If the Mets get some runs off of him tomorrow, they really do have something. The Mets have a chance tomorrow not only because they're throwing deGrom, but also because they have eight legitimate bats (sorry nine tomorrow) in the lineup. Lets Go Mets!