Cleon Jones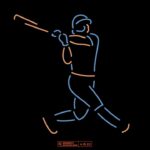 In typical New York Mets fashion, Francisco Lindor's first season with the team was disappointing. Truth is, it wasn't as poor as believed.
Really, it was a function of his slow start. He had a .531 OPS in April, which contributed to his first half .698 OPS. As the axiom goes, first impressions are everything.
As a result, there were boos and controversy. That was followed by an offseason with hot takes and anticipated regret.
It's like people haven't seen this with the Mets previously. Mike Piazza was booed in 1998, and Carlos Beltran was in 2005. Eventually, the Hall of Fame talent overtook the early New York adjustment and jitters.
We're seeing it again with Lindor.
While Lindor struggled mightily early in 2021, he's been great to start this season. Over the Mets first two series, he has a 1.048 OPS. That's nearly double of what he had last April.
He is leading the Mets out to a fast start. They're in first place with two series wins on the road before returning to Citi Field.
In an emotional and energized home opener with the unveiling of the Tom Seaver statue, Jackie Robinson Day, and World Series aspirations, the same crowd who once booed Lindor were set to cheer him.
In the game, Lindor homered from both sides of the plate. He joined Piazza and Cleon Jones as the only Mets to hit two homers in the home opener.
Francisco Lindor has homered from both sides of the plate today.

He has 3 home runs on the season, he didn't hit his 3rd homer last year until May 15.

— Michael Mayer (@mikemayer22) April 15, 2022
In essence, Lindor is showing the world he's a Hall of Famer. He's reminding Mets fans why they were so excited the team traded for him and signed him to an extension. Mostly, the boos have turned to adoration, and that is why it was the Mets Neon Moment of the Week!
* * * * * *
I am very appreciative Athlete Logos has agreed to participate in this feature. If you like his work as much as I do, please visit his website to enjoy his work, buy some of his merchandise, or to contract him to do some personal work for yourself (like I have).