Addison Reed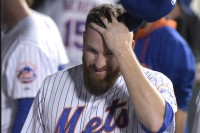 When your team loses big, it's easy to overreact to the loss. Gary Cohen and Keith Hernandez did. They switched places in the ninth in an attempt to keep things interesting. Keith did a good job, but he was no Kidcaster.
On Twitter, most people were upset with Jon Niese and Bobby Parnell. It's understandable as neither one of them were good tonight. You know who was worse? Terry Collins.
We saw the bad Niese again tonight. We haven't seen him this bad in quite a while. The last bad start he had was when he became a dad. Since then, he has been as prone to the complete meltdown. Maybe fatherhood has been agreeing with him. Anyway, he was bad to the tune of five innings with six earned.
In the bottom of the fifth, the Mets got back into the game capped off by a Yoenis Cespedes three run homerun. Honestly, after the inning was over I assumed the Mets would beat up the Phillies bullpen and overcome the 6-4 deficit. However, the top of the sixth happened.
Let's start off with this. I know many people first guessed and said why Parnell in that spot. Many wanted to see Addison Reed there. I was okay with Parnell there so long as he was alright. Furthermore, Reed is supposed to be a part of the 7-8-9 tandem, and there was no need for him to go multiple innings tonight.
If Parnell is going to contribute down the stretch and into the playoffs, he's going to pitch the sixth inning. The problem is he wasn't ready to return. He walked the first two batters he faced, and he threw the ball away on a bunt attempt. By the time he was done, his line was 0 innings pitched, three runs allowed, two earned, and two walks. Collins would then continue the poor managing.
He would bring in Eric O'Flaherty to face the righty Darin Ruf. Do the Mets not supply Collins with his splits? Does Collins have it out for O'Flaherty that he keeps setting him up to fail? Did Collins think Ryan Howard was in the game? I really don't understand. After Ruf's two RBI single, Collins would bring on Carlos Torres.
Collins would then let Torres out to dry. After neither Parnell nor O'Flaherty recorded an out, Collins left Torres out there to finish the inning. The Phillies would hit him hard. Torres let up a walk and three hits. He would allowed three runs with two of them earned.
One of them was unearned because Ruben Tejada threw away a ball he had no business throwing. He could've been bailed out, but it was tough a hop for any first baseman, especially so for a part time one like Michael Cuddyer. At the end of the top of the sixth inning, the Phillies would lead 14-4.
The Mets would tack on four runs to make the score look like a more palatable 14-8. Reed's debut for the Mets was s highlight. He pitched a clean eighth that included a strikeout of Jeff Francoeur. Another highlight was the return of Erik Goeddel from the DL. He pitched a clean ninth.
Look, the Mets are still 13-2 against the Phillies. You can't go nuts over one loss unless it's a season ending loss. The Mets are going to lose some games. The Nationals may even win tonight. That's fine. The Mets still have a nice lead in the division with a weak schedule. If you want something to get upset about, look at Terry Collins.
If the Mets do blow this, and I don't think they will, Collins will be the culprit. The next time someone mentions him as a Manager of the Year candidate keep this game in mind. I know I will.
Otherwise, you turn the page after a loss like this. Tomorrow becomes a rubber game that the Mets need to win. Luckyily, tomorrow is a Harvey Day.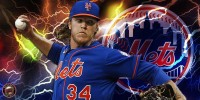 We all know the Mets have bullpen issues. They're bad. Really, really bad. So bad, that Bartolo Colon had to make a relief appearance yesterday. I'll give Collins credit for thinking outside the box to help fix a problem he created.
While the Addison Reed trade helps, he's just one arm in an exhausted bullpen. The Mets need more help. The best help for a tired bullpen is for your starter to go deep in the game. Again, this is where the Mets inability to do math prevents them from permitting them to allow their starters from going deep into games.
On Friday, Matt Harvey could've and should've pitched another inning, especially with the extra rest. Yesterday, it was clear that Jacob deGrom was done after six. I had no problem with Collins pulling him. In fact, I wouldn't have had a problem if Collins pulled him during the sixth inning.
Anyway, we don't know when Addison Reed is arriving at Citi Field. We also don't know if he's ready to pitch. Furthermore, the Mets do not have an off day until Thursday. The only solution we're left with is for Noah Syndergaard is to pitch a good game. I mean a real good game where he goes deep into the game.
Here's where the Mets may be getting some luck on their side as Thor is great at home. He is 7-1 at home with a 1.82 ERA and an absurdly low 0.808 WHIP. More important for today's game, he averages a little over seven innings per home start. If he keeps his pitch count under control today, he should be able to do that today. However, keep in mind Better pitchers like Harvey and deGrom topped 100 pitches through six innings against this same Red Sox team.
The Mets need a big start today from Thor. It's a test for him in advance of a month that's going to be a series of tests. He's passed every test so far. I have confidence that if Collins allows him, he can pass this test today.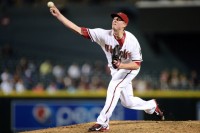 After today's game, the Mets completed a trade for Addison Reed, while not being able to acquire Marc Rzepczynski. While I'm disappointed in my getting Rzepczynski, I'm glad I'm not going to have a repeat of Doug Mientkiewicz, i.e. mastering how to spell his name right before he's gone.
I like the addition of Reed. For his career, he has an FIP of 3.45, which suggests he's a good pitcher. His K/9 is 9.3, which is pretty good. He's got experience closing games with the White Sox and Diamondbacks the past three seasons. Therefore, he's used to high leverage situations.
This year, his ERA is 4.20, which is in line with his career numbers. However, his FIP is 3.12, which suggests he's been a very good reliever this year. However, his results don't match the advanced statistics. One possible reason is he's had a career worst K/9 of 7.5. This means there are more balls in play, and when there are more balls in play, there are more chances for bad things to happen.
Sure enough, his BABIP is .344. This is well above the league average. It's also above his career average of .306. Translation: he's been unlucky. This means behind a better team, his numbers may improve. The Mets are a better team . . . especially with him on the roster. He's a great choice for the seventh inning. I expect his numbers will start to come more in line with what his FIP suggests.
In exchange, the Mets gave up Matt Koch and Miller Diaz. I know nothing about them, which usually indicates they aren't really prospect. However, the Reed surname caused me to take a step back and realize that's not a good way of looking at things. You see the Mets once traded Jason Bay and the other Bobby Jones as part of a package for Jason Middlebrook and Steve REED. Note to Mets fans, this was trading Bay before he became a Rookie of the Year and three time All Star. This wasn't trading the Bay that Mets fans came to know.
Chances are this Reed trade is much better. First of all, Addison is under team control for two more seasons. Second, the prospect package seems much weaker. For this, I will rely upon Jeffrey Paternostro, who tweeted his analysis of them:
Seen both Diaz and Koch a few times. This seems reasonable for both sides, but I am one of the higher guys on Koch out there.

— Jeffrey Paternostro (@jeffpaternostro) August 30, 2015
Since I have my notes out anyway. Miller Diaz: 90-93 s91-92, below-avg command and high effort, below-avg SL 82-86, some feel for change.

— Jeffrey Paternostro (@jeffpaternostro) August 30, 2015
All pretty much the same as my Savannah and Brooklyn looks. Potential middle reliever, but fair amount of work to do.

— Jeffrey Paternostro (@jeffpaternostro) August 30, 2015
Koch is in a different notebook. But I think he is the better prospect. Heavy mid-90s fastball out of the pen and slider has improved.

— Jeffrey Paternostro (@jeffpaternostro) August 30, 2015
What I can glean from this is that if everything breaks right, either one of these guys can become a reliever the caliber of Reed. If it doesn't break right, they won't become major leaguers. This is more the Uribe/Johnson trade than the Cespedes trade.
That means this is a very good trade with little downside, even if Reed doesn't perform. This is a great move by Sandy Alderson. Let's hope Reed takes over the seventh and sites up the seventh. If he doesn't, the Mets bullpen is still is in as much trouble as it was in the Reed/Middlebrooks days.