Neon Moment Of The Week: Jacob deGrom Most Dominant Pitcher Ever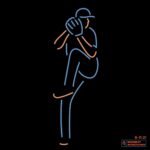 Yet again, Jacob deGrom flirted with a perfect game. Yet again, he drove in more runs than he allowed. Yet again, records were set.
After facing the minimum through six, deGrom has a 0.56 ERA through 10 starts, which is the best in MLB history. Coincidentally, he has allowed just four earned runs on the season while driving in five himself. He's the first pitcher to ever accomplish that feat.
During the game, deGrom struck out 10. He now has 103 on the season. With his doing it in 64.0 innings, he's the fastest in MLB history to record 100 strikeouts.
His career numbers are already heading into another stratosphere. His 2.50 career ERA is already ahead of Tom Seaver for best in Mets history. It's also just a hair behind Clayton Kershaw for the best since World War I.
deGrom's 156 ERA+ has not only surpassed Seaver for best in Mets history, he's also moved past Pedro Martinez and tied Kershaw for best all-time.
Tim Keefe had the best single season ERA+ with a 293 mark in 1880. The modern day record is Martinez with a 291 in 2000. Right now, deGrom has a 689.
Read that again. Jacob deGrom has a 689 ERA+. He's more dominant than anyone ever has been. He's going to completely re-write record books. That is why his virtuoso performance is the Neon Moment of the Week!
* * * * * *
I am very appreciative Athlete Logos has agreed to participate in this feature. If you like his work as much as I do, please visit his website to enjoy his work, buy some of his merchandise, or to contract him to do some personal work for yourself (like I have).