Neon Moment of the Week: Another Patrick Mazeika Walk-Off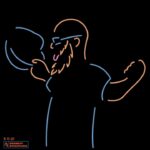 In an era when teams carry just two catchers, New York Mets third string catcher Patrick Mazeika has been leaving a lasting impact. He's done it with getting a hit.
In his career, Mazeika has stepped to the plate five times. He's had one walk, and according to Baseball Savant, he's got one of the lowest exit velocities in the league.
However, what matters is he's getting the job done when needed. He's come up three times with the bases loaded and gotten the run home each time. Once via walk and twice via fielder's choice. In fact, two of them were walk-offs.
METS FOLK HERO PATRICK MAZEIKA GETS ANOTHER WALK-OFF FIELDER'S CHOICE AND THE METS WIN THE BALLGAME! pic.twitter.com/imlUhteYoz

— SNY (@SNYtv) May 12, 2021
The latest one this week was off the Orioles, and it helped keep what eventually became a seven game winning streak alive. That walk-off also set MLB records.
Are you not entertained?! @pattayymaz10 #LGM #NYMNeonProject pic.twitter.com/TqvoVv0L3W

— Athlete Logos (@athletelogos) May 12, 2021
According to Sarah Langs of ESPN, Mazeika became the first ever player with multiple walk-off RBI in his first four games. He's also the first player to have multiple walk-off RBI before his first hit.
Mazeika is becoming a fun Mets legend. He's setting records, and the Mets are winning games, and that's why it's the Neon Moment of the Week!
* * * * * *
I am very appreciative Athlete Logos has agreed to participate in this feature. If you like his work as much as I do, please visit his website to enjoy his work, buy some of his merchandise, or to contract him to do some personal work for yourself (like I have).