Neon Moment of the Week: Jeff McNeil Bat Flip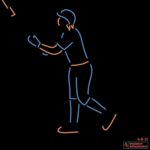 The New York Mets did not get off to the best of starts to the 2021 season. Their first series was canceled due to the Washington Nationals being infected with COVID. They blew Jacob deGrom's first start, and they could never recover from David Peterson getting blitzed.
The team returned to Citi Field with a 1-2 record, and the team had a number of issues. There were a number of players scuffling, and that included Jeff McNeil. With McNeil, things were very different than they had been in past seasons.
Through no fault of his own, McNeil was dropped from the top to the bottom of the lineup. After starting the season 0-for-7, he was given the day off in the series finale. On his birthday, he was dropped to seventh in the lineup hitting behind Jonathan Villar. After starting the day 0-for-2, McNeil was due to lead-off the ninth with the Mets on verge of losing their home opener in very frustrating fashion.
In uncharacteristic fashion, McNeil did not swing at the first pitch. Of course, the pitch being out of the zone by a good margin does that. McNeil would work the count in his favor, and then Miami Marlins closer Anthony Bass would throw one inside, and McNeil would tie the game with his first hit of the season:
Birthday Bat Flip Neon @JeffMcNeil805 #LGM pic.twitter.com/xeAEC1GjT3

— Athlete Logos (@athletelogos) April 8, 2021
After connecting, McNeil would have a bat flip reminiscent of the one Asdrubal Cabrera had roughly five years ago. No, this was not a game of the same magnitude, but this was a special game. It was the Mets home opener, and it was the first home game with fans in the stands since the end of the 2019 season.
Lost in that hit was the fact McNeil had actually been hitting the ball extremely hard to start the season. Going to Baseball Savant, McNeil was hitting the ball hard and was barreling it up. It really was only a matter of time before we start to see McNeil hitting the ball like we knew he could. McNeil chose the best time to do it. He would not only tie the game, but he started a rally which ended with the Mets winning the game.
With McNeil busting out of his early season slump and his getting the Mets first real big hit of the season, his homer and bat flip is our first Neon Moment of the Week for the 2021 season!
* * * * * *
I am very appreciative Athlete Logos has agreed to participate in this feature. If you like his work as much as I do, please visit his website to enjoy his work, buy some of his merchandise, or to contract him to do some personal work for yourself (like I have).