Good Luck Lucas Duda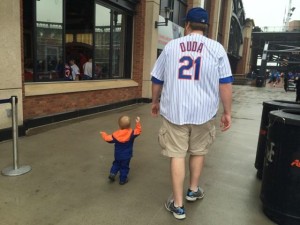 With the Mets trading Lucas Duda to the Tampa Bay Rays, we bring an end to the Mets career of one of the better Mets in their history, and we also see the beginning of the end of an era of Mets baseball.
Duda was a player with a promising bat the Mets that first Omar then Sandy tried to get into the lineup. With players blocking his path to his natural first base position, Duda would be moved to the outfield. Duda would be standing there ins what was then a fairly cavernous right field when Johan Santana threw the first no-hitter in Mets history. Lost in that game was Duda homering in the sixth to put the game away.
Despite Duda being in the outfield during one of the biggest moments in Mets history, it became increasingly clear he wasn't an outfielder. He belonged at first base. The fact he even forced a competition for the spot with Ike Davis was impressive. Duda did all he could to wrestle that spot from Davis, and he finally showed the Mets what he could do hitting 30 home runs in 2014. He had more in store in 2015.
When people have typically written about the 2015 season, they usually credit with Yoenis Cespedes for winning the National League East. This overlooks how Duda almost single-handedly pulled the Mets into first place in 2015:
In that pivotal series that saw the Mets go from second to first place, Duda was 8-9 with a double, three homers, and five RBI. With Mets fans debate over whether Duda was clutch or not, this series should answer the question in the affirmative.
As we know that season would eventually end in heartbreak. Duda played his part throwing away the ball in Game 5 allowing Eric Hosmer to score the tying run. It was hard to watch, and unfortunately, it masked all the good he had done that season including his grand slam in the division clincher and his homer effectively sealing the pennant:
These are many of the many great things Duda has done in a Mets uniform. He was the second Mets player in history to hit three home runs in a game at home. Shockingly, he was second to Kirk Nieuwenhuis. Speaking of homering at Citi Field, Duda leaves the Mets as the all-time leader in home runs at Citi Field.
Hitting homers was one of the things Duda did well. This year, he passed notable Mets like Edgardo Alfonzo, Kevin McReynolds, and Todd Hundley to finish his Mets career with the seventh most in Mets history. Depending on whether you view Dave Kingman as an outfielder or first baseman, Duda's 125 Mets homers are either the most or second most for a Mets first baseman.
There were many great moments with Duda, but none of the aforementioned moments were my favorite. My favorite Duda moment was a seemingly meaningless Spring Training Game in 2015.
One night, I was sitting up watching the game with my then one year old half watching a Spring Training game when Duda ripped a double leading to an enthusiastic Gary Cohen call to the effect of "LUCAS DUDA rips an RBI double . . . ." My son immediately latched on and began screaming Duda, and he wanted to see Duda play more and hit more. As that season wore on, he became more and more interested in baseball, and he would learn the Mets players. First one he'd learn:
That was a magical year as both a father and a Mets fan. I'd get to see the Mets go to the World Series for the third time in my life, but it would be the first time I'd get to experience it with my son. I still remember him trying to stay up to watch the games with me. I remember him getting me a Duda jersey for Father's Day and getting the Duda growth chart at one of the Mets games. Even with Duda gone, we will still use it. I also remember him going crazy during that World Series cheering for the Mets:
Duda leaving does not only mean we are saying good bye to a good player who began his career with the Mets. We are also saying good-bye to a part of a Mets era. It was an era that saw the Mets go from a frustrating team a team that came so close to winning a World Series.
On a personal note, I see Duda leaving as part of the ever changing realization that my son is no longer a baby – he's now a little boy. He doesn't just snuggle up with me at bedtime trying to watch Mets games, he now goes outside and plays baseball with me.
It was time to move on, especially with Dominic Smith waiting in the wings. Still, as Curtis Granderson would point out, you just want to hold onto all of these moments just a little longer: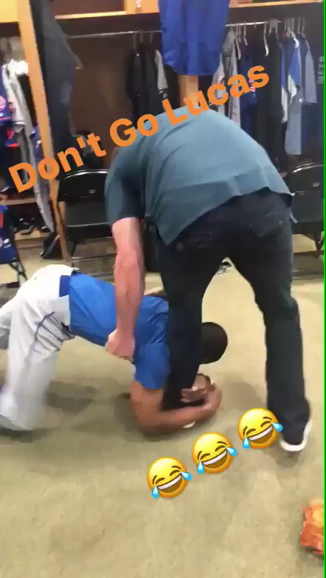 Like Granderson, I still want to hold on to not just Duda, but all of these memories. In reality, it's time to move on to bigger and better things. With that said, I enjoyed each and every minute Duda was a Met (except for that throw), and I appreciate all he has done in a Mets uniform. He was a class act, who was always there to answer questions in even the hardest of times. On a personal note, he helped make another great fan. He deserves another opportunity to win a World Series, and I hope he does get that ring.
Good luck Lucas Duda.