Mike Piazza's Number 31 Officially Retired
It was a muggy and rainy day that might've lead to the game being called on any other night.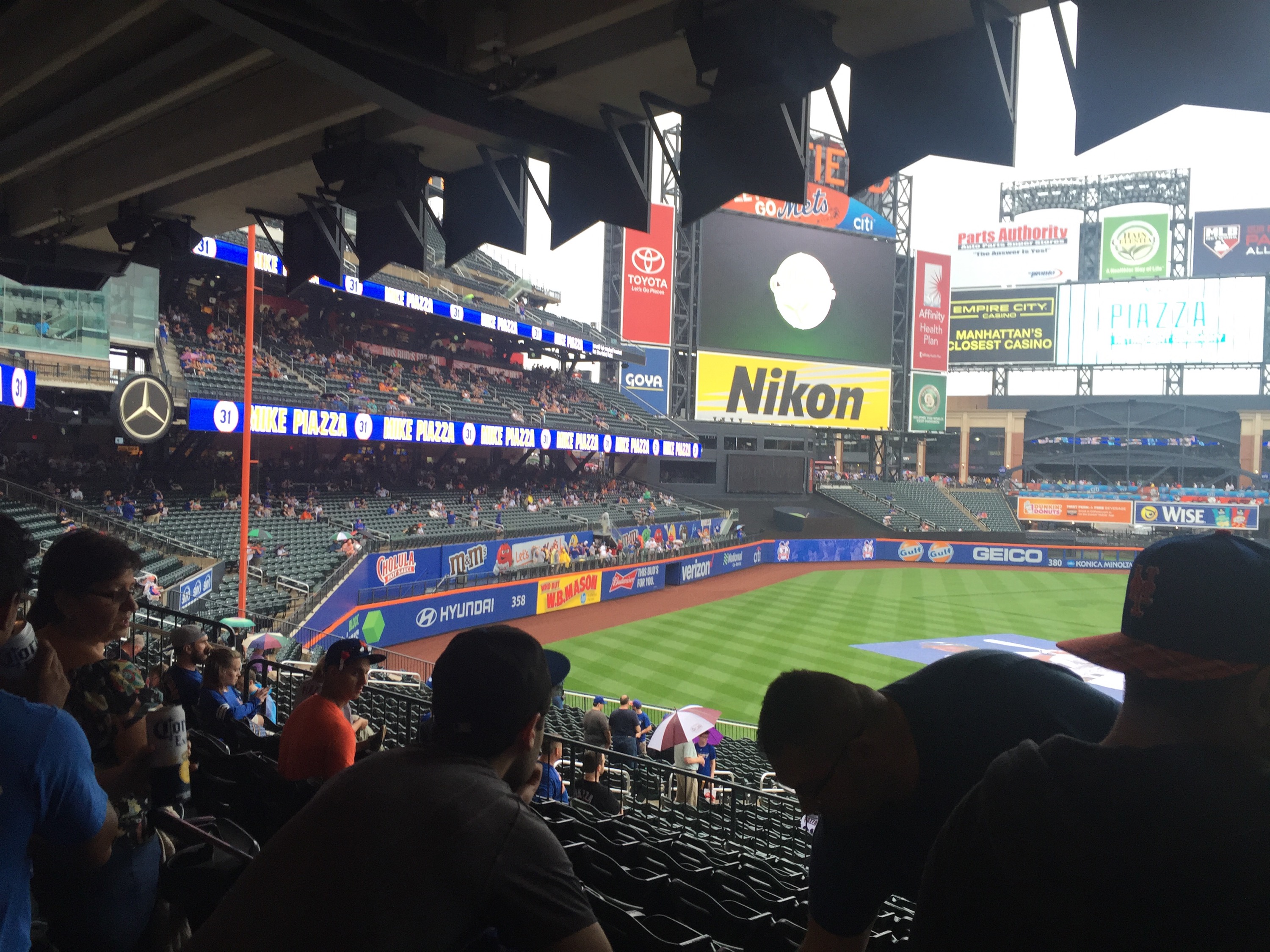 But they weren't going to call this game as it was the night the Mets were retiring Mike Piazza's number 31. With the 31 inside a home plate mowed into centerfield, the Mets were ready, and nothing was going to stop the night.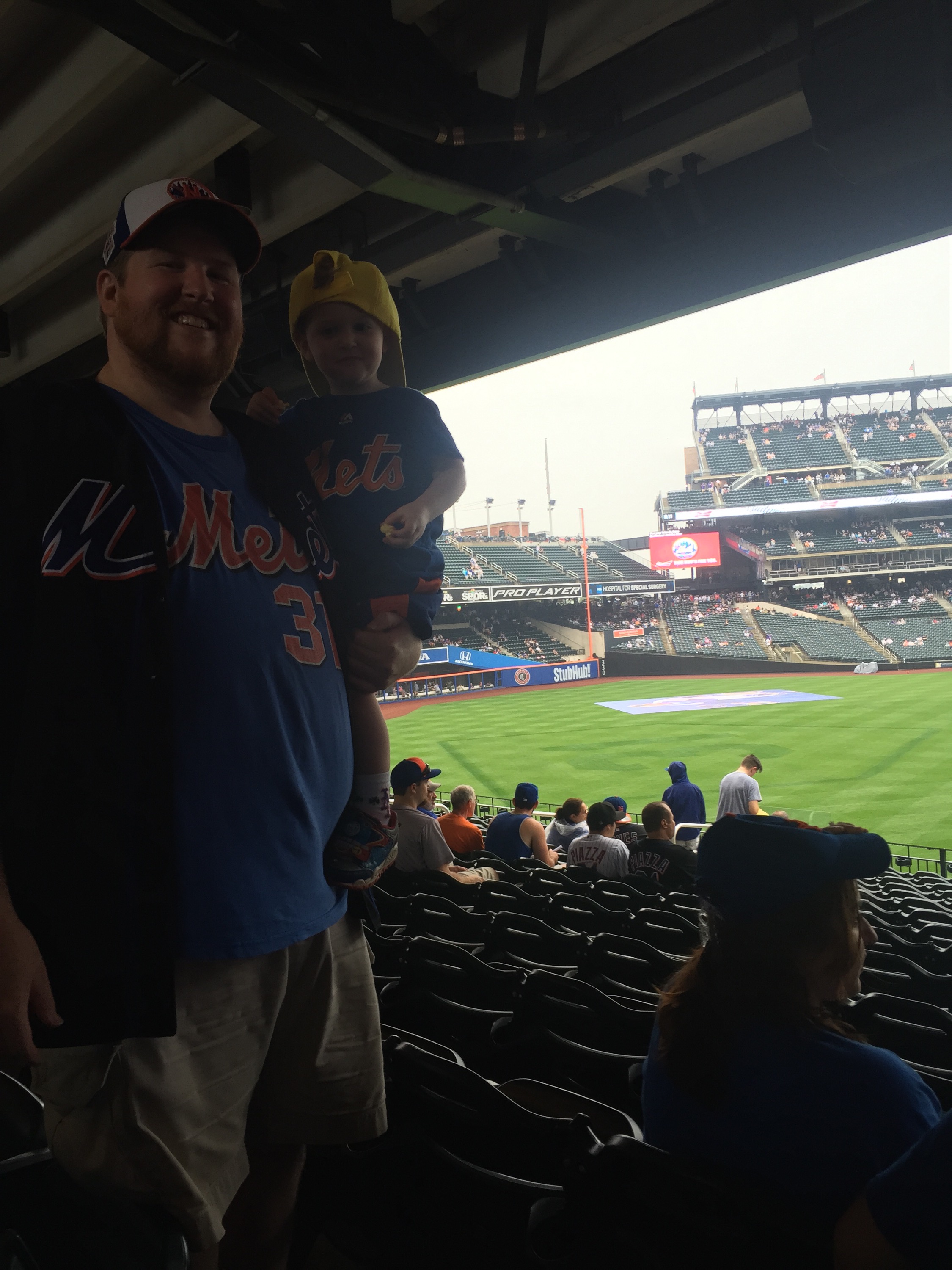 The ceremony was just about perfect with a video featuring Piazza standing at the spot home plate once stood at Shea Stadium

We had to visit it after the game.
Then Piazza would come through the Mets dugout that seemed to have most of the players there, and the crowd erupted.

Every little touch was perfect from the aforementioned 31 in centerfield to his 31 prominently featured on the Home Run Apple.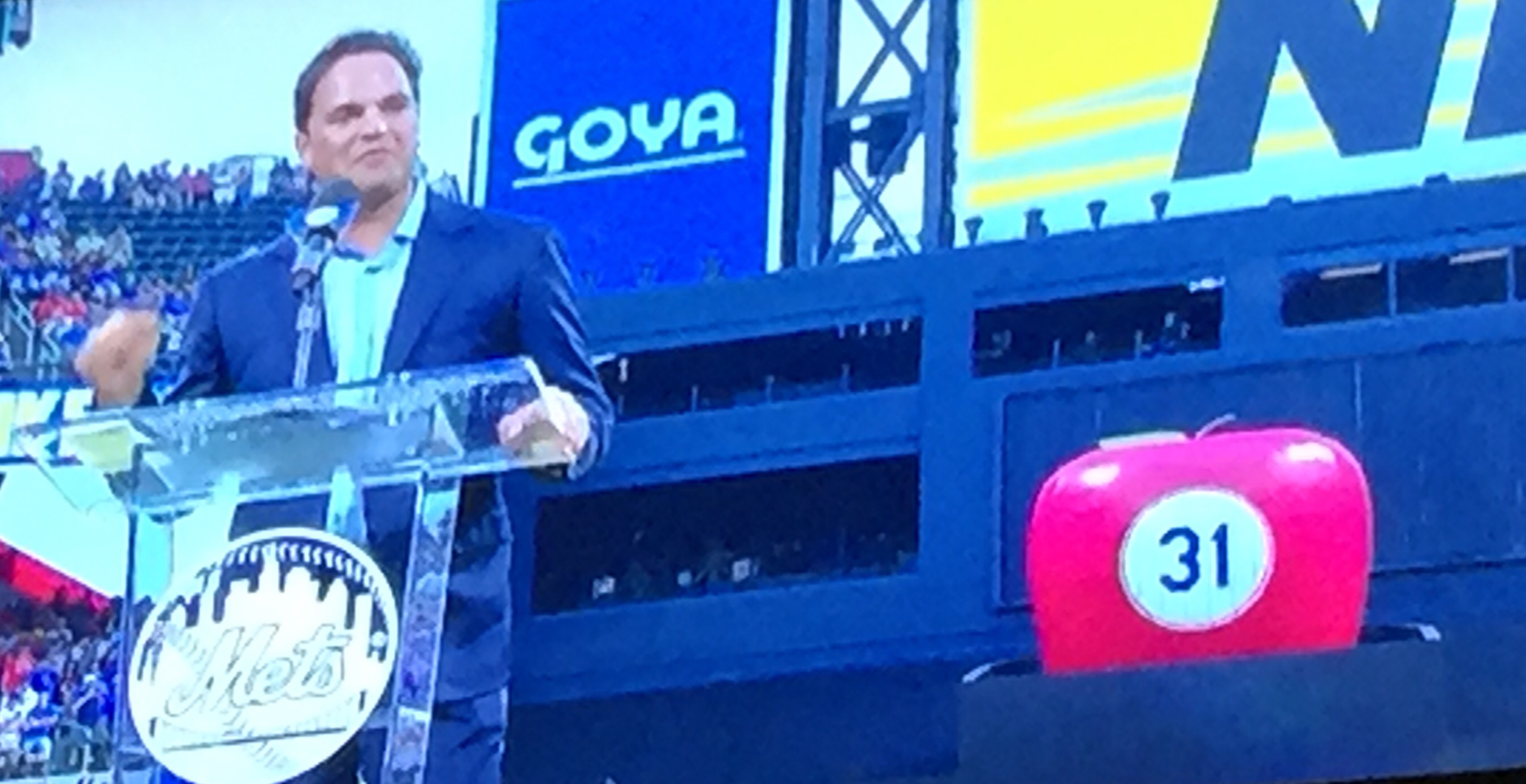 The video introducing him was spot on making sure to put an emphasis on his post 9/11 home run
The only thing missing from the tribute was Mets fans giving him a curtain call after he homered off former teammate and fellow Hall of Famer Pedro Martinez.
Speaking of former teammates, there was some surprise that there weren't more of his old Mets teammates there. Frankly, I was shocked there was no John Franco, but you don't know the scheduling issues that would prevent people from coming. For example, you know White Sox manager Robin Ventura would never be able to make it.
You still didn't notice it too much with who was there. There was old fan favorite Cliff Floyd. The best Mets second baseman of all time Edgardo Alfonzo. The last player there was the first Mets pitcher Piazza ever caught, Al Leiter. Since leaving the Mets, Leiter was never treated properly by Mets fans for how great a Met he was, but on this day, he would be with a loud standing ovation. Then we finally saw the number unveiled: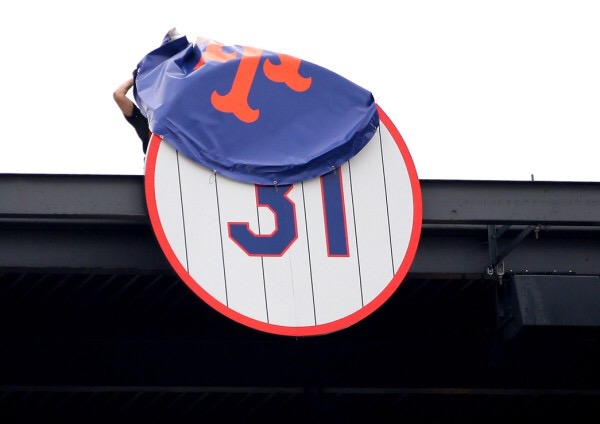 Piazza then had to speak. Many times, he seemed speechless at the outpouring of affection he received. Other times, Mets fans would not even let him speak during his speech:
Piazza honored everyone including the fans. He took in the moment as Mets fans did as well. His induction to Cooperstown was a coronation, but this was a celebration with 42,207 of his closest friends. There would be no roomfor booing as Piazza would remind the fans when he brought up the Wilpons. That's the power of Piazza – he can get the fans to stop booing the Wilpons.
He gave a poignant speech letting the fans know that for as long as his 31 hangs in Citi Field, he will be with all of us. As he parted, he tried to inspire everyone saying that whenever the team needs inspiration, they need only look up to left field and remember that old Mikey is with them.
After he threw out the first pitch from home plate to Leiter, it was game time


Yes, there were some jokes about Piazza not doing it to Alfonzo at second. The real joke was what followed. The team either didn't listen or was too undermanned to draw from these inspirational words.
The game itself. It was never going to match the beauty of that ceremony, but it didn't need to be that ugly. The team never heeded his parting advice.
Given how the Mets have been playing, and the lineup that was put out there, the loss was no surprise. The Mets starter AAA cast-off Justin Ruggiano in center, a reall defensively challenged Kelly Johnson at first, a 43 year old Bartolo Colon on three days rest, and of course Neil Walker. Not even facing the worst starter in baseball Jorge De La Rosa could revive this offense.
It was just a brutal game that saw Terry Collins get tossed in the fourth, and frankly, most Mets fans didn't stay for much longer than that it a 7-2 loss.
Overall, the only thing worse than the loss was knowing that Tom Seaver was physically unable to attend the ceremony. It was still a great night, and years from now, I will always remember seeing this for the first time.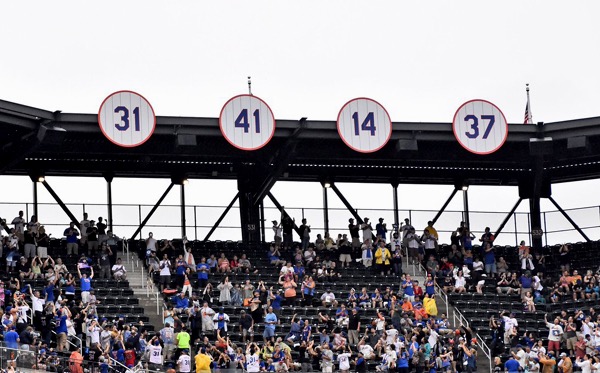 Game Notes: Jose Reyes was put on the DL before the game.