Mike Piazza's 31 Should Be in Black
The only thing we know right now about Mike Piazza's retired 31 is that it is going to be in the Left Field Legends Landing in front of Tom Seaver's number 41.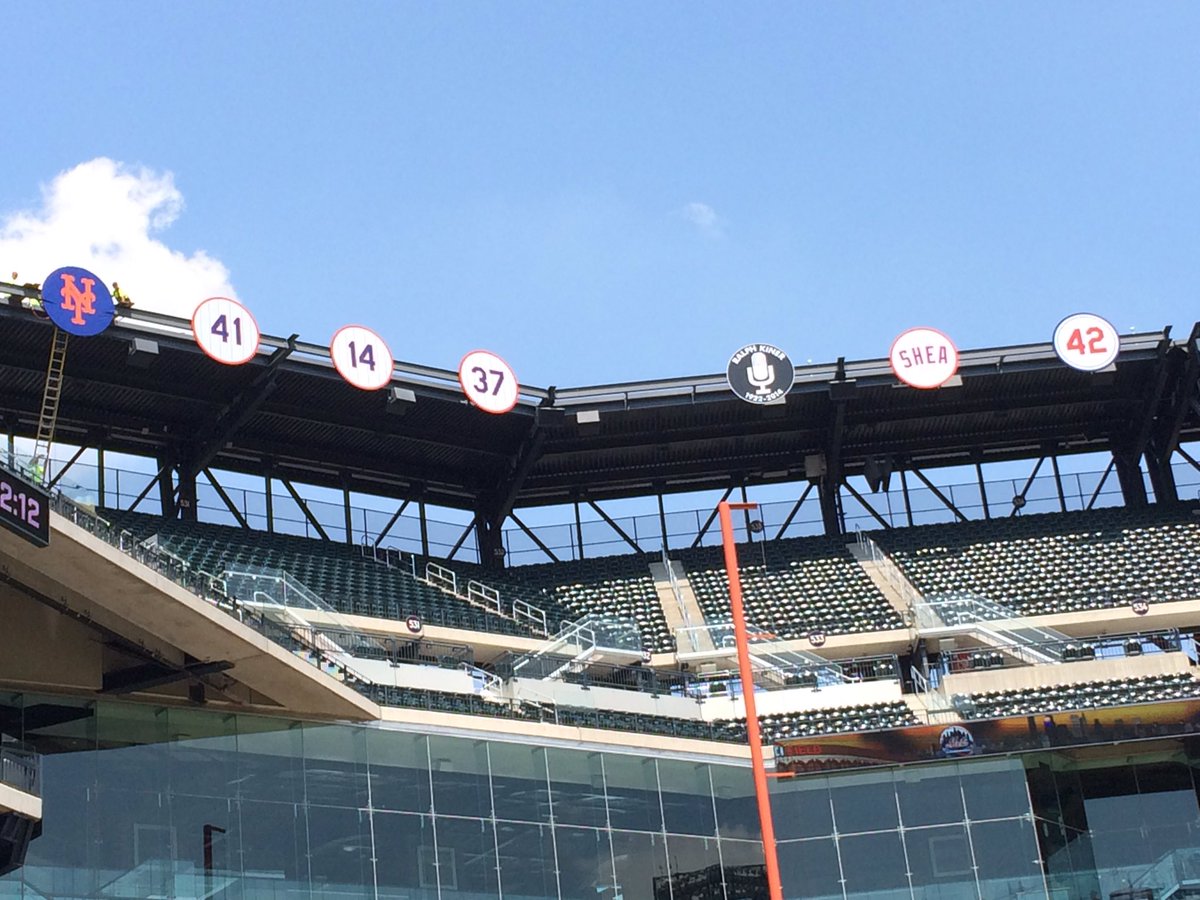 * Photo courtesy of Jeremy Posner
For whatever reason, the Mets are changing how the retired numbers are displayed. It used to be in the order the numbers were retired, and now with Piazza's ceremony on the horizon, the Mets have changed it to reverse order. It'll be interesting to see if that is how it remains. What is also interesting is that the Mets have tipped their hands, and they have shown that they are going to do a "uniform" display of the retired numbers:
What is interesting about that is Piazza never specifically wore that jersey. Sure, the Mets would occasionally wear pinstripes during Piazza's tenure with the Mets, but when they did the number had a dropshadow.
Instead of the jersey number as the Mets will most likely display it, the Mets should have gone with the black jerseys to represent not just Piazza, but also the specific Mets era in which he played: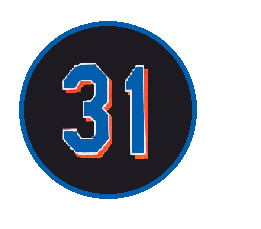 That's the jersey Piazza wore in his first playoff game with the Mets (road version of the black jerseys in Game 1 of the 1999 NLDS). It was a game the Mets won highlighted by an Edgardo Alfonzo grandslam. It was the jersey he was wearing when Robin Ventura hit the Grand Slam single. It was the jersey he wore when he hit the three run homer to cap a 10 run eighth inning rally that saw the Mets overcome an 8-1 deficit against the hated Braves. It was the jersey he wore when the Mets won the 2000 Pennant. It was the jersey he wore when he broke Johnny Bench's record for most home runs by a catcher. And yes, it was the jersey he wore when he hit the post 9/11 home run.
Overall, if you conjure up your favorite moment of that era or of Piazza in a Mets uniform, chances are the Mets were wearing the black uniforms. It doesn't really matter that Piazza wore the snow white jerseys more than any other jersey. The Mets need for symmetry should not outweigh properly representing history, and remember, it was their idea to have the black jerseys in the first place. Instead, the 31 that will forever hang in the Left Field Legends Landing should be the Mets black jersey as that is the jersey that most fans associate with Piazza.
Unfortunately, that is not what is going to happen, and with it the Mets will fail to properly reflect their history.