Matz Back on Track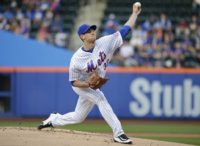 After all the Mets fans hysteria after Matt Harvey struggled against the Nationals, it was easy to forget there was a game to be played tonight.
Like most of May, the Mets offense seemed to forget as well. For the first five innings, the Mets offense could only muster one run with three hits and a walk against Wily Peralta. This is the same Peralta who came into tonight's game with a 2-4 record, 7.30 ERA, and a 1.992 WHIP. It didn't matter as the Mets offense lately has been worse than Peralta . . . at least until the sixth inning.
Asdrubal Cabrera lead off the inning with a single, and he scored when Michael Conforto hit one into what used to be the Party City Deck.
Watch @mconforto8 crush his 7th home run of the season. #Mets #LGM https://t.co/HkyhuTNCjThttps://t.co/VX3VszasbF

— New York Mets (@Mets) May 21, 2016
Mets led 3-2.
There was a chance for more, but well, no one is quite sure what happened. Yoenis Cespedes singled, and he took off on a 3-2 pitch to Neil Walker. Walker took the pitch right down the middle for strike three, and Cespedes didn't even bother sliding into second. Former Met Carlos Torres came on, and he got the Brewers out of the inning.
The three runs were enough for Steven Matz, who was terrific. He pitched seven innings allowing three hits, two earned, and no walks with eight strikeouts. He only made one mistake, which was hit for a two run homer in the first by Chris Carter, who is tied with Cespedes for the league lead in homers. Matz's start was all the more incredible when you consider he had been shut down with elbow inflammation.
However, it looks like he's back on track, and the Mets are back on track as well.
Game Notes: Kirk Nieuwenhuis and Torres got their NL Championship rings before the game. Eric Campbell started at third as David Wright had a scheduled day off. Rene Rivera had a nice game with an RBI ground out in the second, and he threw out another basestealer:
René Rivera is so good.

His CS% is 34.4% … 2nd-best among active catchers (250 games). Only Yadier Molina is better

— Mark Simon (@MarkASimonSays) May 21, 2016