Bartolo Colon Homered?!?!?!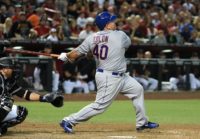 This game wasn't about the superb game David Wright had going 2-2 with three walks, two runs, a homerun and an RBI. This game isn't about Michael Conforto snapping an 0-17 streak with a homer. It's not about Yoenis Cespedes hitting another homer. It's not about the 6-3 win snapping the Mets two game losing streak.
No, it's about Bartolo Colon's homerun:
There's nothing more than needs to be said about tonight's game other than . . .
Bartolo Colon homered.