What's Two Years for Clippard?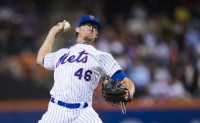 Last year, when the Mets had delusions of grandeur that the worst offense in Mets history could go to the World Series, the Mets traded for Tyler Clippard. In exchange for two months of Clippard, the Mets have up Casey Meisner, who was a well regarded prospect.
Initially, Clippard delivered for the Mets. Up until his back injury, Clippard pitched very well. From July 28th to September 16th, Clippard made 26 appearances pitching 26.1 innings. In those innings, he had a 2.73 ERA with a 1.03 WHIP limiting hitters to a .182/.257/.364 batting line. In short, he combined with Jeurys Familia to make it a seven inning game, which is all the more frightening for opponents when you consider the Mets pitching staff.
Apparently, despite the Mets adding a couple of relievers, they are still interested in Clippard, but only on a one year deal. I don't get it. Yes, Clippard had the worst year of his career last year. However, in the midst of that year, the Mets traded away a promising young starter. Now, the Mets don't have to give up any young players. Instead, they only have to give Clippard an extra year. They're balking at that second year. It doesn't make sense.
Keep in mind, the Mets just handed Antonio Bastardo a two year $12 million contract. Bastardo turns 31 in September. For his career, Bastardo has a 3.58 ERA, 109 ERA+, 1.198 WHIP, and an 11.0 K/9. Last year, Bastardo pitched 57.1 innings in 66 appearances. He had a 2.98 ERA, 129 ERA+, 1.134 WHIP, and a 10.0 K/9.
Clippard turns 31 in two weeks. For his career, he has a 2.88 ERA, 138 ERA+, 1.089 WHIP, and a 9.8 K/9. Last year, Clippard pitched 71.0 innings in 69 appearances. He had a 2.92 ERA, 134 ERA+, 1.127 WHIP, and an 8.1 K/9.
Looking at the numbers, Clippard is a better reliever than Bastardo. Furthermore, Clippard established he could not only pitch well in New York, but he could also pitch well as the main set-up guy in a pennant race in New York. With that said, the Mets should offer Clippard the extra year, like they did with Bastardo, and get the deal done.