The Eric O'Flaherty Era Is Officially Over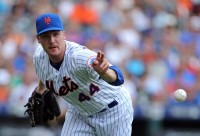 Normally, when a player leaves the Mets, I like to take stock of all the good things they did with the Mets. With Eric O'Flaherty it's near impossible.
When the Mets acquired him, I thought he was the missing piece to the Mets bullpen. He was going to be the LOOGY the Mets needed. Instead, O'Flaherty was just terrible. He had a 13.50 ERA and a 2.654 WHIP. Honestly, I'm not even sure he was that good. To put it in perspective, his ERA+ was 29. TWENTY-NINE! While I could say that there are no words to describe how poorly he pitched with the Mets, I think saying 29 describes it perfectly.
To be fair, there was one good thing that came from the O'Flaherty trade. The corresponding move was the Mets designating Alex Torres and all his hats for assignment. For that, Mets fans do owe him a little bit of gratitude.
Now, he's off to Pittsburgh on a minor league deal. I'm sure now that he's completed his post-Tommy John season and his being under the tutelage of Ray Searage, O'Flaherty will return to the effective LOOGY he once was. I'm positive hell revert back to the guy that has a 1.69 career ERA against the Mets.
In any event, O'Flaherty is a Pittsburgh Pirate ending his reign with the New York Mets. I think I speak for everyone when I say that's best for everyone.