Thank You Carlos Torres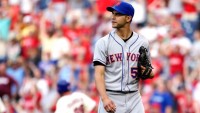 We are all guilty at times of becoming too focused on statistics when it comes to determining a player's worth. Sometimes we overlook the value of being able to take the ball whatever the situation. Ultimately, that was Carlos Torres' greatest attribute.
Over the past three years, Terry Collins stretched that rubber arm of his to a breaking point. Torres served as a spot starter, long man, and set-up guy in his three years with the Mets. In his time with the Mets, he averaged over 1.1 innings per appearance. Torres' rubber arm allowed Collins to rest the other arms in the Mets bullpen. There is immense value in a pitcher that can constantly take the ball in a variety of spots.
However, saying Torres' value was taking the ball whenever needed is underselling him. Torres was an effective pitcher with the Mets. Torres had a 3.59 ERA, a 1.253 WHIP, and an 8.2 K/9 in his three years in Flushing. He was a good pitcher. Unfortunately, after all the time and hard work he put in with the Mets, Torres was hampered by a hamstring injury which prevented him from pitching in the postseason.
However, that's not to say he didn't have an impact on the 2015 season. He started and finished the most amazing defensive play of the season:
We also discovered he might've been the fastest Met on the team. Finally, he gave up his number 52 for Yoenis Cespedes. I expected nothing less from someone who was a team first guy.
With the Mets signing Antonio Bastardo, there wasn't any room for him left on this Mets team. It's a cruel twist of fate we see all too often in sports. A guy gives everything he has to help a losing team, and when things begin to turn around, he is sent packing. It's unfortunate, but it's the way things work. Sure, Torres deserved better, but that still doesn't mean there was room for him on the 25 man roster.
With that said, it shouldn't come as no surprise that Torres didn't return to the Mets. Not even on a minor league deal. Instead, Torres signed a minor league deal with the Braves. He should have no problem making their Opening Day roster as Torres can fill any role he teams needs.
Teams always need a player like Torres, and I'm sure at varying points of the season, so will the Mets. He was a player who brought real value to the team. It certainly leaves a hole in the organization not having him and his rubber arm around anymore. He was a good Met, and he will be missed.
Thank you Carlos Torres.