Cespedes Is Cooking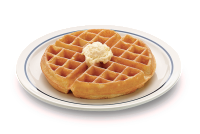 What did you have for breakfast today?
Me? I had my usual bottle of Diet Coke or Diet Pepsi. I would've grabbed something on the way into work, but I didn't have time to stop. I really could've gone for some waffles, but there's no waffle iron at the office:
Is there anything he can't do?! @ynscspds making waffles for breakfast. #Mets #SpringTraining pic.twitter.com/bI11V9HtYF

— New York Mets (@Mets) February 22, 2016
I know what I'll do. I'll give someone the keys to my Lamborghini to pick up a waffle iron.
Just think about that for a second. Think about loving waffles so much you toss your keys for a car worth about $400,000 to make a Target run. Check that. You are so particular about your waffles that you're willing to give the keys to that car to someone to get a round waffle maker because you don't particularly like square waffles.
Theresa said went to 2 stores in Yoenis Cespedes @Lamborghini to find a round #Oster waffle maker #SpringTraining pic.twitter.com/QHbctWLcLz

— Ed Killer (@TCPalmEKiller) February 24, 2016
I have to admit that year two of Yoenis Cespedes has been terrific thus far. Once Cespedes has arrived he has been the constant topic of conversation.
We're not talking about Terry Collins' decision in Game 5 of the World Series. We didn't freak out when Jacob deGrom tweaked his groin. There are a number of other issues that may have arisen that we're not aware, or if we're aware, we're not focused upon them.
Instead the talk is Cespedes' cars and his breakfast options. It's keeping Spring Training light and fun thus far. Instead of discussing what went wrong last year or what issues this team may have this year, we're focused upon Cespedes. That's a good thing. He was here to be the focal point of the Mets. He's doing that.
If I have one issue with Cespedes right now, it's this – how could you not have a round waffle clause in your $27 million contract?