Bobby Parnell Was Almost There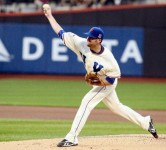 Almost. That's the one word I think of when I think of Bobby Parnell's Mets career. He almost figured it out.
The Mets organization always thought of him as a reliever, but in 2009, when the team no longer had nothing to play for other than finding out who will be a part of the future, they let Parnell start some games. In his first home start, he pitched six shutout innings against the Giants. It was downhill from there. It didn't mean Parnell was a bad pitcher, it just meant he was reliever.
It didn't change the fact that the Mets had high hopes for him. They saw him as a future closer. He had the stuff for it. He put together some good seasons. Then he had the break he needed in his career. In 2011, he was mentored by Jason Isringhausen. The next two years would be the best years of his career. In 2013, he would fulfill what the Mets saw as his destiny. He became their closer.
It would be the best year of his career. He recorded 22 saves. He had a 2.16 ERA with a 2.33 FIP, a 166 ERA+, and a 1.000 WHIP. He was a reason for hope for 2014 and beyond. Well, almost. He had elbow problems going into the 2014 season. After one poor appearance, he had to be shut down and have Tommy John surgery.
He tried to come back in 2015, but he was ineffective. Up until his surgery, Parnell had a 96 MPH fastball with an 87 MPH slider, 84 MPH curve, and a 89 MPH split. Upon his return, his repertoire was a tick slower with a 94 MPH fastball, 82 MPH curve, and a 89 MPH split. His WHIP jumped to 1.958. His ERA+ was 59. Whereas Matt Harvey was given a year and a half to rehab, Parnell rehabbed for barely over a year.
He apparently needed more time. Once again, he was almost ready.
He's a former Met now having signed with the Detriot Tigers on a minor league deal. He's on a team that seemingly needs bullpen help each and every year. Hopefully for him, he's ready. I hope he's past being almost there.
He was a good Met. He had periods of effectiveness. It almost worked out well in New York.