Tired of Obnoxious Cub Fans Named Todd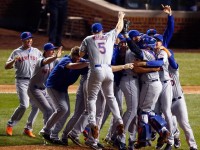 Apparently, the Cubs part-owner, Todd Ricketts, called Mets fans "really, really obnoxious." We had to hear how when the Mets lost the World Series, his wife exclaimed, "Screw you Matt Harvey! Screw you Mets fans!" When I read this, I immediately thought of George Carlin. I'm also "getting tired of guys named Todd" too. [Warning: NSFW]
In all sincerity, I've never seen Mets fans cross the line. I've seen them rambunctious. I've seen them passionate. They're louder than most fan bases. Obnoxious? Hardly. You want an obnoxious fan base? Rickettes needs to look no further than his own.
Look at how Steve Bartman has been treated by fellow Cubs fans. He was pelted with garbage. He received death threats and hate mail. They sold t-shirts with his head in a noose. The governor suggested he enter the Witness Protection Program. Famed Cubs fan and reporter, Michael Wilbon, blamed everything on him.
Put Bartman aside. This is a historically awful fan base. Their own players almost went into the stands to confront their fans. It led to a infamous Lee Elia rant about how awful Cubs fans are, and how they should go out and get jobs. They heckled Kris Bryant in his first game.
So next time any Cubs fan considers the Mets fans to be obnoxious, consider who he is defending.