Time to Retire Carter's Number Has Passed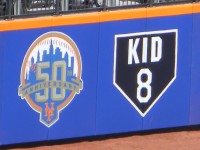 Every single one of us has our favorite players. Growing up, I loved Gary Carter. If I had a blog back in 1997, it would've been named ElectGaryCartertotheHallofFameNow.com.Finally, in 2003, The Kid was finally elected in the Hall of Fame. I wanted him to go in as a Met and for him to have his number retired by the team.
There would be controversy over his cap. To understand the controversy, we have to go back in time a bit. There was a time that players were not selecting caps due to the team they felt most closely aligned or where they accomished the most. No, players were selecting caps based upon financial incentives.
Dave Winfield received $1 million to wear a Padres cap on his Hall of Fame plaque when he was inducted in 2001. Winfield going into the Hall as a Padre wasn't an egregious choice. He started his career there, and he played eight years there as opposed to nine with the Yankees. He did have better numbers with the Yankees, but he was also treated awfully by them. Steinbrenner dubbed him Mr. May to deride his production in a pennant race. Steinbrenner hired gamblers and private investigators to "dig up dirt" on Winfield to get out from under the contact. So no, it's not surprising Winfield chose the Padres cap and the $1 million.
Winfield wasn't egregious, but it was the sign of a larger problem. That problem would come to a head with Wade Boggs. There were rumors that Boggs negotiated in his contract that he would enter the Hall of Fame as a Tampa Bay Devil Ray. It forces the Hall of Fame's hand, and they began the process of selecting player caps, even if it was against a player's wishes. As we saw with Andre Dawson, it's a move that benefitted the defunct Montreal Expos.
On the one hand, it's a move that had to be made. You couldn't have players and teams negotiating this away in one year contracts towards the end of a player's career. The Hall of Fame does have some responsibility to preserve history. On the other hand, the Hall of Fame has overstepped its bounds a bit. Remember they did allow Reggie Jackson to enter the Hall of Fame as a Yankee (5 years) as opposed to the Athletics (10 years). They allowed Nolan Ryan to enter the Hall of Fame as a Ranger (5 of his worst years) instead of an Astro (9 years) or an Angel (8 years).
Carter played 12 years for the Expos, and 5 with the Mets. Based on the Jackson/Ryan standard he should've had his choice even if Carter was an Expo through and through. However, Carter wanted to go in as a Met. The Hall of Fame decided he would go in as the first Montreal Expos; a decision Carter did not object.
Unfortunately, the decision cost him. The Expos moved to Washington a year and a half after his induction. The franchise almost immediately unretired the number of their first Hall of Famer. Also, it cost Carter his chance of the Mets retiring his number 8.
As we saw with Mike Piazza, the Mets have set an exceedingly high standard for retiring numbers. For their players, the Mets have reserved that honor for players who have entered the Hall of Fame wearing a Mets cap. With one decision made by the Hall of Fame, not by Carter, Carter was cheated of his chance to have his number retired by the Mets. Sadly, even if the Mets reverse course, the day honoring Carter will be melancholy with his untimely death at the all too young age of 57.
If Carter isn't there to enjoy the honor, I believe the moment has passed. As much as I may have wanted it one day, I don't think the time is now. If the Carter family feels differently, I certainly would change my tune.