Flores Is Needed All Over the Place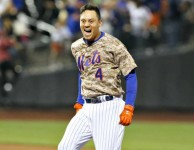 While everyone is trying to decipher the outfield configuration after the Yoenis Cespedes signing, there is the issue of how the signing puts added importance on Wilmer Flores' ability to be a backup infielder.
Third Base
Make no mistake. The Mets need Flores to be able to handle the role and handle it well. For starters, we do not know David Wright's ability to withstand a full 162 game schedule. Last year, Wright had difficulty playing three days in a row. It impacted his offense and defense. With a full offseason to continue the extra work needed due to his spinal stenosis, that could change for Wright. It also may be a new reality.
Flores has to be ready, willing, and able to play third at a monent's notice. In his major league career, Flores has only played 209 innings at third base. During that limited time, he did show the ability to handle the position. The problem is he has to work on his third base defense while addressing his second base defense.
Second Base
When the Mets acquired Neil Walker to replace Daniel Murphy, the Mets obtained a switch-hitting second baseman who has hit .272/.338/.427 over the course of his career. That's with him coming off the worst year of his career last year when he hit .269/.328/.427 with 16 homers and 71 RBI. One of Walker's issues last year was left-handed pitching. Walker hit a dreadful .237/.284/.290 in 62 games against lefties. For his career, Walker has hit an underwhelming .260/.317/.338 against lefties in his career. Effectively, Walker is a platoon player.
Ideally, that platoon parter would be Flores. However, Flores has to be able to hit lefties himself. Last year, Flores did that with aplomb. In 57 games, Flores hit .310/.355/.600 with 7 of his 16 homers against lefties last year. However, for his career, Flores has only hit .230/.288/.403 against lefties in his brief major league career. Overall, for the Walker trade to work Flores needs to be the 2015 version of himself against lefties as opposed to what he's done against them in his entire career.
First Base
First base is where it starts to get dicey for Flores. With the Cespedes signing, Lucas Duda became the only player on the roster with any major league experience at first base. This forces Flores to learn a new position in addition to keeping prepared for his other backup roles.
How much Flores is needed will depend on Duda. Last year, Duda hit a respectable .285/.333/.545 with seven homers and 21 RBI in 82 games. However, much of that was fueled by an extraordinarily high BABIP of .385. For his career, Duda has hit .229/.301/.369 with a .321 BABIP. In short, Duda is due for a regression against lefties. It will be Flores' job to cushion the fall back to earth while hoping his numbers against lefties doesn't regress either.
Shortstop
The Mets signed Asdrubal Cabrera to be the new everyday shortstop. A role that used to belong to Flores. Cabrera's backup to open the season should be Ruben Tejada, who actually wrestled the shortstop job away from Flores last year.
Here's the issue. The one spot Flores isn't backing up is the one spot he's most needed. Last year, Cabrera had a -6.0 UZR and a -7 DRS at shortstop. For his career, he has a -55.5 UZR and a -29 DRS at short. Tejada had a -5.6 UZR and a -15 DRS at short last year. For his career, he has a -1.5 UZR and a -20 DRS there. Flores had a -2.5 UZR and a -10 DRS at short last year with a 1.5 UZR and a -13 DRS for his career.
So defensively, Flores is the best shortstop option. However, the Mets are going with Cabrera in the hopes that his .328/.372/.544 second half will carry forward because otherwise the Mets signed a shortstop who has hit .249/.307/.405 in the three years since his last All Star appearance. Ironically, the position Flores is best suited to on this team is not a position he is tops on the depth chart going into next season.
Pinch Hitter
Since this is the National League, Flores will need to be ready to pinch hit for the pitcher or for a left handed when a LOOGY enters the game. In his career, Flores has only had 13 plate appearances where he hit .250/.308/.333. These are around his career numbers of .253/.287/.386. Accordingly, Flores can reasonably be expected to replicate his career batting line as a pinch hitter next year. Whether that's good or not is a whole other matter.
Conclusion
Surprisingly, much of what the Mets want to do lies on Flores' shoulders. He had to platoon at second. He had to hit against tough left-handles while playing first. He has to be available at a moment's notice to play third. He's available to play each and every one of these roles because the Mets are placing their top shortstop option, Flores, on the bench.
Flores is still only 24 years old. He works hard, and he will do everything he can do to improve and help the team. He's going to need to be proficient in three to four infield positions because the Mets really need his help.
Editor's Note: this article first appeared on metsmerized.com