DePodesta Challenging the NFL Status Quo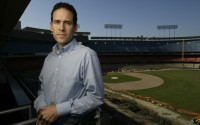 There's been a big going around my house of late, so I thought my fever was causing me to have hallucinations when I read Paul DePodesta was leaving the Mets for the Cleveland Browns. Before I started heading to the ER, I looked to verify it, and luckily, I found this:
I have learned Paul DePodesta leaving #Mets to run the NFL Cleveland Browns as executive VP, answerable only to team owner/pres.

— Joel Sherman (@Joelsherman1) January 5, 2016
It was true, and it was an inspired hire by the Cleveland Browns. Within the baseball industry, DePodesta is a well regarded within the baseball industry. He went to Harvard, where he played both baseball and football. Despite his reputation, he cut his teeth being a scout. He would later incorporate analytical and statistical information into his scouting reports. Across the board, he's seen as intelligent and as a hard worker. I don't care what industry you're in; these skills will always translate.
First, let's address what he's leaving behind. DePodesta was the Mets viewed by some as the successor to Sandy Alderson as the next Mets GM. While we don't know what specifically he did during his tenure, we do know the Mets credit him with reorganizing the entire scouting department:
https://mobile.twitter.com/adamrubinespn/status/684423205981925377
As for which moves he had a direct impact on, we only have speculation. He was rumored to be a voice in support of the Mets hiring Terry Collins back in 2011. It is believed he was a proponent of keeping Lucas Duda and trading Ike Davis. He was supposedly heavily involved in the R.A. Dickey trade. As the Mets VP of Player Development and Amateur Scouting, he oversaw the draft that brought in Michael Conforto. Overall, he's depicted as Sandy Alderson's right hand man. As such, his fingerprints are all over the Mets.
Now, DePodesta is leaving all that to become the Browns Chief Strategy Officer. What most know about DePodesta is he worked with Billy Beane to help revolutionize baseball. I don't think that is overstating the case when you see all teams heavily investing in analytics. Most people know this story from a little book and movie Paul DePodesta was featured.
One important note here is I implore you to read the book Moneyball for yourself. Despite what you've heard or seen in the movies, the book and/or the concept of Moneyball is not about OBP or advanced statistics like WAR. No, it's about being able to locate market inefficiencies to maximize the proverbial bang for your buck.
Essentially, the concept is we can't afford the best of the best, so what do we do to outsmart the other teams. Moneyball isn't about saying a player like Mike Trout is the best player in the game because he does xyz. No, it's about saying look, where our budget is, we can't afford Mike Trout, so we need to exploit market inefficiencies to build the best team possible for the least amount of money possible. It just so happens that in the late 90's that it was OBP. Such a fundamental misunderstanding has already lead to opinions like this:
Now we know what #Browns Haslam meant by the HC and GM will have to collaborate: it's analytics or bust. Come to interview w/ your abacus

— Mary Kay Cabot (@MaryKayCabot) January 5, 2016
I'd chalk this up to a football person making a mistake about a baseball person, but really, I see enough of the misunderstanding from supposed baseball people to know it's a universal problem.
I think this was a terrific hire by the Browns. Football is a salary cap league. Each and every year, you're looking at your roster. You're crunching numbers. You're pulling in scouting reports. You're really just trying to figure out how you're going to field a team within the confines of the salary cap. There is no better person for that job than Paul DePodesta.
It's what he did in Oakland. He's done it in New York. He knows how to find the market inefficiencies to build a complete roster. From what we've seen, he likes to utilize younger cheaper players at pricier positions and move them before they have outlived their value. It's no surprise the A's and the Mets were built upon terrific young staffs. He saved money there, and then he looked to find the players who were under market value to fill in a roster in a shoestring budget. Ultimately, isn't that what you need your front office to do in the NFL? DePodesta's track record matches up well with that skill set making him a good hire.
With that said, I'm not so sure this was the right move for DePodesta. First, despite the fact he has some football experience, he will always be looked at as a baseball guy. More so than anyone else his moves will be scrutinized more than anyone. The success and failure of each Browns season will be attributed to him despite the fact that he's not the GM. He's going to be held to a different standard.
Speaking of which, he's going to be held to a higher standard. I don't believe it's hyperbole to say people are expecting a revolution. He revolutionized how front offices operate. He showed that by being ahead of the curve, any team can win. People will be expecting DePodesta to do the same with the Browns. People may not accept incremental improvements. They may not be willing to wait the five years Mets fans had to wait to see a winner.
That's going to be difficult. One of the reasons the Browns are having problems is the division they play. The Steelers and Ravens have been traditionally run very well with very good football people. Since Marvin Lewis came aboard, the Bengals went from laughingstocks to perennnial playoff team. That is it right there in a nutshell. The best thing you can do is go get the right people and let them do their thing. Give them time to build a winner.
I'm not sure DePodesta will revolutionize the NFL. However, I believe he will do everything he can to build the Browns into a winner. He just needs to be given sufficient time to get the job done. He did it Oakland. He did it in New York. It can happen in Cleveland.
Good luck to you Paul DePodesta.