Yotober Dominance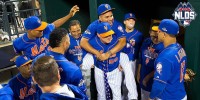 Mets fans had every reason to be pumped before the game. The fans came and they brought it tonight:
UTLEY SUCKS. #LGM pic.twitter.com/6tRWVQza5N

— In Mets We Trust (@InMetsWeTrust) October 13, 2015
From the first pitch to the last pitch, the crowd was amazing. I loved the Mets pausing introductions when Utley was introduced to prolong the booing. This is what happens when the Mets haven't been in the playoffs for nine years. It's what happens when Chase Utley injures Ruben Tejada on a dirty slide. It's what happens when Matt Harvey finally gets to start in October.
After a smooth first, Harvey got into some trouble in the second. There were three soft singles, and Terry Collins brought in the corners with bases loaded and no out. Why? No one knows. In any event, Yasmani Grandal hit an RBI single to right. If the infielders were properly positioned, it would've been a 3-6-3 double play. Because they weren't, it was a single.
The bases would clear on the single after a Curtis Granderson throwing error. It was 3-0 with a runner on second. Harvey struggled from that point forward, but he kept the Dodgers at bay. His final line was five innings, seven hits, three runs, two earned, two walks, and seven strikeouts. He kept the Mets in the game, and he gave them a chance to win.
The Mets seized that opportunity. Everyone reached base at least once. Travis d'Arnaud got the Mets on the board with an RBI single in the bottom of the second. The Mets loaded the bases and Curtis Granderson came up to the plate. He hit a double off the wall clearing the bases giving the Mets a 4-3 lead.
d'Arnaud would expand the lead with a third inning two run homer. The Mets would put the game away with a six run fourth capped by a massive three run Yoenis Cespedes homerun:
Mets fan @NYSportzNut is in Section 334 at Citi Field and captured Yoenis Cespedes' home run on video. Wait for it. http://t.co/ZI2x7XHgRj

— Eli Langer (@EliLanger) October 13, 2015
It's officially Yotober.
In total, the Mets put 14 runs on the board. They were lead by three big bats:
Granderson 2-5 with two doubles and five RBIs;
Cespedes 3-5 with three runs, one homerun, and three RBIs; and
d'Arnaud 3-4 with three runs, one homerun, and three RBIs.
The Mets also got big contributions from Wilmer Flores and Juan Lagares. Flores played well at short, and I'm not grading on a curve. Lagares went 1-3 with three runs, one double, and a walk. Neither player was thought to get any start in this series, and yet, due to extenuating circumstances, they came in and played extremely well.
Essentially, none of the Dodgers played well. Trash talking lefty starter Brett Anderson only pitched three innings allowing seven hits and six earned. The Dodgers bullpen went five innings allowing six hits, seven earned, and, five walks. On top of that the Dodgers and/or Chase Utley were gutless in not putting him in the game. They couldn't find a spot for him in a 13-7 loss. Pathetic.
The Mets rallied around Ruben Tejada. The only downside was having to use Jeurys Familia after Erik Goeddel allowed three runs and couldn't record one out.
The Mets are a win away from the NLCS. They're one win away from exacting revenge on the Dodgers for what Utley did to Tejada. I can't wait to be there tomorrow. Lets Go Mets!