Rookie of the Year Was a Terrible Movie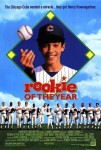 All season long, we've heard Cubs fans talking about how they'll win the 2015 World Series because Back to the Future, Part II said they would (it didn't). I'm sure they will next point to Rookie of the Year because in that movie the Cubs beat the Mets on the way to winning the World Series. God help us.
Lets sum up this dredge of a movie. Basically, the Cubs are such a joke of a franchise that a 12 year old pitcher named Henry Rowengartner can make their team. Sure, he could throw hard due to an arm injury, but he's still 12. He makes the team, and he's some sort of Aroldis Chapman. However, unlike real life, the closer is the reason why the team becomes competitive.
The only team standing in their way is the 1993 Mets with a strange player named Heddo, who looked like a failed Frankenstein experiment to combine Howard Johnson and Ogre. It all comes down to the final day of the season. The Cubs start their aging ace, Chet Steadman to start the game:
Seriously, look at that throwing motion. It's terrible. He really couldn't get it over 50 MPH. Maybe that's why when Henry falls, magically healing his arm, that Heddo can't hit the ball. I know the 1993 Mets were horrendous, but I'm pretty sure they could hit anything thrown under 70 MPH with no movement. Okay, maybe not Tito Navarro, but you get the point.
Anyway, the Cubs win. Steadman and Rowengartner can't pitch in the playoffs, but the Cubs win the World Series. Ummm, okay. Sure. As a kid, I was disappointed because the Mets lost. I couldn't root against the Mets, especially when they got this great new first baseman, Heddo.
I know, I know. It's just a movie. It's purely fictional. Just like the Cubs beating the Mets wn route to winning the World Series.